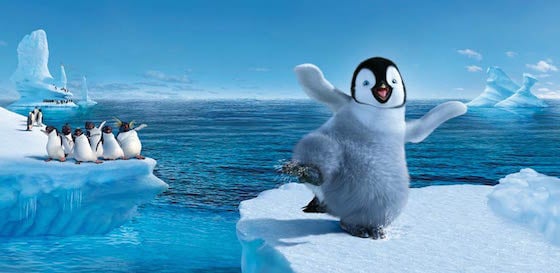 If there's one thing that many people hope for at Christmas - beyond peace, goodwill and the chocolate of their choice - it's a little bit of snow. Although filmmakers now have everything from snow machines to CGI in their armory, in the early years of film, creating the phenomenon proved a challenge. Everything from cornflakes to cotton and even asbestos - glimpsed most famously in
The Wizard Of Oz
's poppy field scene (if you're looking for a great long read on the subject I recommend
this
). As everyone here at Eye For Film wishes you all the very best of the festive season, we're bringing you a snowy spotlight, so you can have some of the white stuff in your life even if it's not piling up outside. You'll notice, perhaps, that we haven't included
Frozen
, but only because it is in this week's Stay-at-Home Christmas special - and it's still available to watch on iPlayer if you still want to build a snowman.
Happy Feet, Apple TV, Chili
Sticking with the family film theme, they don't come much more snowy than this ecologically underpinned charmer from George Miller. Although the thrust of the narrative follows a young penguin who struggles to find his Heart Song, it  also packs a strong environmental message about the pollution and commercial fishing threatening the birds' environment. These darker themes are delivered with plenty of soft-shoe shuffle and music, plus Robin Williams doubling up as the romantic rockhopper Ramon and the Lovelace, an evangelical penguin with a touch of Barry White, who, in another nod to the film's more serious message, is being slowly choked by one of those plastic six-pack rings that, thankfully, are becoming a thing of the past. Beyond the complexity of the story, the animation is almost photo-real in places, and parents of very young children might want to check out the action sequences before they let their kids watch as they pack a punch.
The Revenant, Netflix, Amazon, Apple TV and other platforms
The midwinter presented by Alejandro González Iñárritu in his tale of a frontiersman bent on vengeance is very bleak indeed. Even the name of Leonardo DiCaprio - Hugh Glass - suggests it might well shatter in the cold. The film excels in its action sequences, in particular, Glass's mauling, visceral encounter with a bear, which will set in motion his revenge mission against bad guy John Fitzgerald (Tom Hardy). DiCaprio deservingly won an Oscar for his role - something he certainly went the extra mile for, even eating raw bison liver despite being veggie (he reportedly said at the time that "the bad part is the membrane around it". Although the film relies to a degree on stereotypes, it gets hold of you with an icy grip that's hard to shake.
Force Majeure, BFI player, Amazon
This film from Ruben Östlund, which would go on to be remade as Downhill, with Will Ferrell in the lead, is another example of a film whose atmosphere is as chilly as its snowy backdrop. A middle-aged Swedish couple on holiday in the Alps are on the verge of their own emotional avalanche as cracks begin to appear in their relationship - but it's the real McCoy that will have repercussions for both of them, after faced with impending doom the husband (Johannes Kuhnke) grabs his smartphone rather than one of his children. A slick of black-ice humour runs beneath the drama and Östlund's secondary characters are so good, particularly a divorcee and his much younger girlfriend (Kristofer Hivju an Fanni Metelius), they occasionally threaten to steal the show.
The Day After Tomorrow - Virgin TV Go, Apple TV, Chili
Jennie Kermode writes: Now looking like a slightly less extreme version of the more recent Snowpiercer but featuring much more hands-on interaction with a snowbound near future world, this film features a young Jake Gyllenhaal as a student who is visiting New York City and finds improbable refuge in its Public Library when a giant ice storm caused by climate change abruptly transforms much of the northern hemisphere into a freezing death trap. Dennis Quaid plays the polar scientist father who will do anything to save him. Also, there are wolves. Roland Emmerich's cautionary actioner may be absurdly optimistic in its conclusions about how the wider world would treat US refugees, but it was important in being the first US blockbuster to directly take on the climate crisis, and it's still very watchable today, combining disaster movie theatrics with some thrilling action sequences.
Atanarjuat, The Fast Runner, Apple TV
Atanarjuat, The Fast Runner
Inuk director Zacharias Kunuk had made other films prior to this story, which is rooted in Inuit myth, but it was the first to be made in the Inuit language of Inuktitut and brought him to international prominence. The critical heat it received no doubt helped many Indigenous directors who have followed to get their voices heard more easily. This tale of a bitter feud across two generations, centres on a love triangle between Atanarjuat (Natar Ungalaaq), Oki (Peter Henry Arnatsiaq), and Oki's betrothed (Sylvia Ivalu). Kunuk creates a complex but immersive and vibrant picture of life for the Inuit - marked out by stunning snowy cinematography and a haunting score - that also explores how their fables teach the young the importance of putting the group's wellbeing above their own personal desires.
The White Reindeer - Shudder
Jennie Kermode writes:
One of vanishingly few films to address traditional Lapp culture, this 1952 classic, set entirely in the snow-covered lands of the north, focuses on the tension between masculine and feminine magic. Pirita (Mirjami Kuosmanen, wife of director Erik Blomberg) wants her husband to stay with her instead of going away on the reindeer hunt, but when she seeks help from a shaman she is rejected and learns that it is her destiny to become a witch. Sacrificing a pet white reindeer in order to make herself more alluring, she gains the power to shapeshift between human and reindeer form. What could be more attractive to a hunter than his prey? Of course there is a terrible price to pay in a film whose landscapes are as haunting as they are beautiful. The film is important for its recreation of a way of life now close to extinction, and for its acknowledgement of a woman's needs and talents in a tough world which allows little room for their expression.
The Thing, Virgin TV Go, Apple TV, Chili
Jennie Kermode writes:
Opening with now classic scenes of a lone dog running across a snowy waste, John Carpenter's reinvention of 1951's
The Thing From Another World
gave us one of the most terrifying and genuinely alien monsters in movie history as well as delivering on action and drama. It follows a group of scientists isolated at a remote Antarctic base when they discover a creature which has been dug out of the ice and allowed to thaw. With no help at hand, they must use all their resources to survive - but before they can defeat it, they need to figure out which member of their own team it has disguised itself as. Being outside in the snow for long is deadly in itself, so there's nowhere to run. The notion of unknown, ancient things lying in wait in the frozen ground has often been revisited in existential horror and as more of Antarctica sheds its snowy coat each year, it feels increasingly close to home.
We're returning to animation for our snowy short to end this week's selection. Fear Of Flying, is the tale of Dougal, a small bird with a big problem - he's scared of taking to the wing. As winter approaches he faces tough choices in Conor Finnegan's delightful, detailed stop-motion short.
Share this with others on...