Eye For Film >> Movies >> Happy Feet (2006) Film Review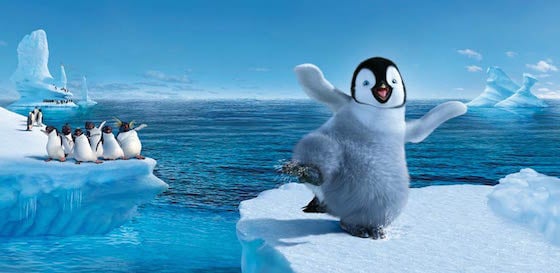 To criticise a film for its trailer is as stupid as criticising a footballer for his tattoos. And yet there are exceptions. The trailer for George (Mad Max) Miller's animated Antarctic saga is a masterpiece in feelgood marketing. The film is entirely different, darker, more political and, occasionally, too scary for five-year-olds.
While an international smash hit, such as Finding Nemo, covers the bases with jokey sidefish, a sentimental storyline and fun CGI, Happy Feet is about not fitting in, being vocally disabled, having defective skills that don't comply with the norm.

The film begins in the style of a Broadway musical, followed by March Of The Penguins, except these Emperors talk, until the egg Memphis (voiced by Hugh Jackman) has been keeping warm all winter hatches late and out thumps Mumble (Elijah Wood), an odd looking fella, who can't sing in a community that thrives on group harmonies, accompanied by specially selected soloists, or leaders of song. All Mumble can do is an involuntary soft shoe shuffle, like an untutored tap, that shocks and embarrasses his parents ("It ain't penguin what you're doin'").
Beneath the surface of possibly the best CGI animation ever is a radical message that could be construed as an attack on conservative values, capitalist greed and religious fundamentalism. This heavy subtext creeps in once the hapless Mumble's talents are deemed unacceptable and he is banished to wander the white wastes, like a leper.
He is befriended by four smaller penguins (Robin Williams), who speak with Mexican accents, and are the complete opposite of the Protestant elders, who watch over the moral certitude of the conformist Emperors. They are optimistic pleasure seekers, who can't stop laughing (and singing), the equivalent of Pumbaa, Timon and Rafiki from The Lion King. They even mock the killer seal that attempts to eat Mumble, as it skids about on the flat ice, and introduces the messianic witch doctor Lovelace (Robin Williams again), who preaches the wisdom of the world in the language of Old Testament penguin.
Already, Happy Feet has broken with tradition, as Mumble travels further than any Emperor before him to discover who is stealing "our fish." What he finds can be seen as monstrous in size and implication, factory ships with nets as big as caves. The horror of man's insatiable greed has powerful visual imagery, which will upset a child's anticipation of sugarcoated eye candy. There is nothing sentimental about global warming, or the rape of nature, as there might have been when a disadvantaged kid overcomes fear with courage and pride.
The originality of Happy Feet is a genuine surprise. Whether the script will hold the attention of the under-nines is less easy to judge. By the end, the politics of Greenpeace triumphs. Is this the time, or the place, to save the planet with a cartoon? What is certain, however, is that you won't see better animation, or more beautifully choreographed CGI, anywhere. For this alone, grown ups should be encouraged to go, leaving the little one at home with a Disney DVD.
Reviewed on: 07 Dec 2006
Share this with others on...