Vanessa Redgrave and Emmanuelle Riva with Sony Pictures Classics' Michael Barker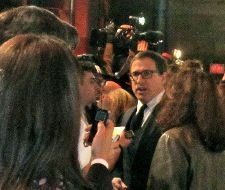 In the second of our reports from the National Board of Review Awards gala in New York last week, Silver Linings Playbook writer/director David O Russell talks how Jennifer Lawrence gave him multiple gifts on the set and Ben Affleck tells me Argo is more than a four-letter word. Anne Hathaway and Amanda Seyfried sparkle without a trace of Les Misérables misery while Michael Moore prefers to dress down in denim when presenting. Amour star Emmanuelle Riva graciously shares the red carpet with Vanessa Redgrave, who has a few choice words.
Silver Linings Playbook, up for eight Academy Awards, including Best Picture, Writing (Adapted Screenplay), and Directing, was given the award for Best Adapted Screenplay at the gala, where winner David O Russell gave us some unexpected insight into Jennifer Lawrence's character.
Anne-Katrin Titze: Jennifer Lawrence acts like a lightning bolt in Silver Linings Playbook. Her reactions surprised me many times.
Ben Affleck shares some four-letter words
Photo: Anne-Katrin Titze
Photo: Anne-Katrin Titze"]David O Russell: She is an extremely focused actor, she's just like a natural athlete, like Joe DiMaggio. So you think she's not paying attention and all of a sudden she jumps in there and knocks it out of the park. Me, Bradley Cooper, Robert De Niro, Jackie Weaver kind of said "wow!". So that's an amazing gift. And then, two minutes later, she can be putting a big doo-doo in a toilet that doesn't work on the set.
I never expected my first exchange with Ben Affleck to contain so many four letter words, but sometimes you surprise yourself for art's sake. Argo is nominated for seven Oscars, including Best Picture, and the fact that Affleck, who was honoured for Special Achievement in Filmmaking by the NBR, was snubbed in the best director category, has already caused quite a stir.
AKT: Who came up with the line "Argo fuck yourself?"
Ben Affleck: "Argo fuck yourself" was Tony [Mendez, Ben's character in the film] and John Chambers [Hollywood make-up artist, played by John Goodman]. That's 100 per cent true. That's what they used to tell each other to sort of keep things light because of the anxiety of the mission. And they said "Argo fuck yourself" and that's why they changed the title of the movie to Argo. We saw a bunch that didn't make the final script called Argo, in truth, the final script was called the Lord of Light and they changed it to Argo because they always used to tell each other "Argo fuck yourself", which was their inside joke to the Iranians.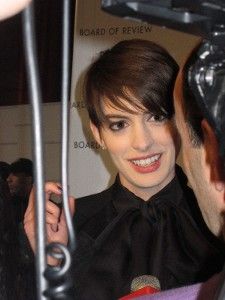 The gals from Les Misérables (seven Oscar nominations, including Supporting Role for Anne Hathaway) were anything but miserable that night, and celebrated their Best Ensemble Cast award, together with Eddie Redmayne. Amanda Seyfried is a pro on the red carpet and knows what fashion questions to expect.
AKT: Your blush and snakeskin panel dress is stunning! (Someone else shouts over my shoulder: How long does it take you to get dressed?)
Amanda Seyfried: It's Bottega Veneta. An hour and 30 minutes.
Anne Hathaway, who is at my left now, is being asked about her favourite car.
Anne Hathaway: Oh, Honey, what's the Mercedes that I love?
She talks to her husband, Dukes Of Hazzard star Adam Shulman, who stands right in front of me, ready to help out.
AKT: Are you the back-up guy?
Adam Shulman (with a big smile): I am!
Amanda Seyfried decked out in Bottega Vaneta, in 90 minutes or less
Photo: Anne-Katrin Titze
Michael Moore, who was presenting walks past.
AKT: I very much enjoyed how you hosted the Richard Peña tribute at the 50th New York Film Festival.
Michael Moore: Oh, thank you. I enjoyed it, too.
Last, but not least, Emmanuelle Riva, Oscar nominee for Actress in a Leading Role for Amour, walked in with Vanessa Redgrave and Michael Barker, Co-President and Co-Founder of Sony Pictures Classics. I overheard Redgrave being asked about the most important relationship in her life.
Vanessa Redgrave: If you think I'll answer that, you must be crazy. Good luck!
In other words, Vanessa Redgrave, in her own, more polite way, was telling the anonymous inquirer: "Argo fuck yourself!"
Read more from the NBR Awards red carpet here, the Oscar nominations in full here and the BAFTA nominations here.
Share this with others on...