On Tuesday, January 8, celebrated filmmakers turned out for the 2013 National Board of Review Awards Gala in New York and I was on the red carpet to ask them their thoughts.
Zero Dark Thirty star Jessica Chastain, now a two-time Oscar nominee, is still in disbelief about the whirlwind of fame that has swept her up in the past two years. Beasts Of The Southern Wild director Benh Zeitlin told me about directing his dreams IN his dreams, when I presented him with shocking news. Read what his film's star, Quvenzhané Wallis shares in common with GoldenEye Bond girl presenter Famke Janssen. See Skyfall's Daniel Craig fly by with a smile, while Wreck-It Ralph director Rich Moore explains to me the new direction for Disney.
The Breakthrough Performance Actress, Best Directorial Debut, Best Actress, and Best Animated Feature award winners honoured proved prescient, with each one receiving Academy Award nominations this week.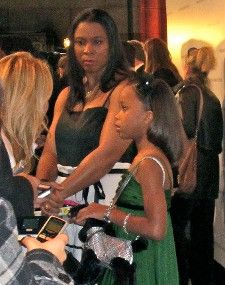 Quvenzhané Wallis, at nine years old, is now the youngest Oscar nominee, after receiving a Best Actress in a Leading Role nod following her Breakthrough Performance Actress win here. Quvenzhané, carrying her favourite bag, walked the red carpet with her mother Qulyndreia Wallis keeping a watchful eye out.
Anne-Katrin Titze: You have a great bag there! Did you ever imagine beasts like the ones in the film?
Quvenzhané Wallis: When I was shooting, I only had one. Now I have two. A big one and a small one like this (She points to her bag, in the shape of a poodle).
AKT: A big what? Are we talking bags or beasts?
QW: A big German Shepherd.
AKT: Do you ever get your dog mixed up with a beast? Is your dog behaving beast-like?
QW: She is like a beast. She scratches herself. She bites you when you wake her up. She's just a big ol' beast.
AKT: Good thing you know what to do with any beast now.
QW: Yep!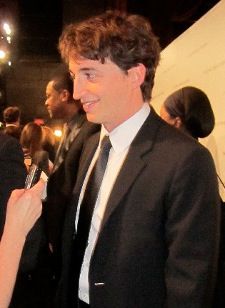 Beasts Of The Southern Wild, won Zeitlin the Best Directorial Debut and his film has four Academy Award nominations including Best Director and Best Film. I spoke with Benh at the past year's Gotham Independent Film Awards, where he also won Breakthrough Director. At the National Board of Review Awards Gala we were catching up.
AKT: Did your dreams change while you were filming Beasts?
Benh Zeitlin: I didn't sleep much during the shoot.
AKT: What about afterwards?
BZ: You know what's horrible is when you start dreaming that you are directing your sleep. That's a horrible thing to start to happen in your dream. You actually start directing yourself.
AKT: I'm afraid to tell you, you're still sleeping. This is all a dream.
BZ: That is very possible. I wouldn't be surprised.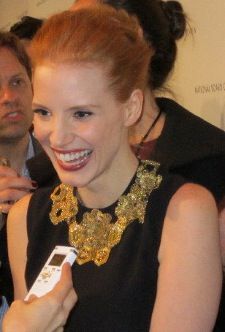 Best Actress winner Jessica Chastain keeps it simple when traveling coast to coast during the awards season and shares her favorite point in time. Zero Dark Thirty has five Oscar nominations including her second nomination, this time for Best Actress in a Leading Role. She was flying to Los Angeles right after the gala for the Golden Globes. Jessica has been starring on Broadway in The Heiress.
AKT: How are you doing with all of the accolades you have been receiving the past two years?
Jessica Chastain: The most exciting moment was the Oscars (She was nominated last year for Best Supporting Actress in Tate Taylor's The Help). In the Alexander McQueen dress sitting next to my grandmother was a very emotional beautiful moment for me… Rosewater spray on aeroplanes is amazing.
Animated Feature Film winner Wreck-It Ralph director Rich Moore, gives me the scoop on what it's like to be launched. He also has garnered an Animated Feature Film Oscar nomination.
AKT: Congratulations. How it is working at Pixar and did Lasseter have any advice for you?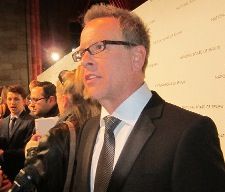 Rich Moore: I was reminded by John Lasseter not to try and make a "Disney film", you know. He wanted me for me, or for what I brought. So it was a great way to be launched at Disney. He encouraged me to make the kind of movie I would like...
Rich Moore goes on to explain what trust means to him.
RM: I was constantly pushing against the forces of nature… It took a lot of faith and trust from the crew… I love how the relationship between Ralph and Vanellope matures. I love how it begins with a kind of immature kid-like adult and we get to watch him mature into a kind of big brother and then ultimately into a kind of parental figure.
AKT: You mentioned a departure from "Disney Disney". What do you mean by that? Explain to me an un-Disney Disney movie!
RM: I would say, it's exactly what John Lasseter asks from the directors at Pixar. Movies are not assigned to the directors, the ideas for the films really come from the heart of the directors. So I would say it's exactly that. Picking a subject matter and emotions that are important to the director. That these are matters and issues that are individual to the filmmaker and want to be explored. That's what Disney style is now, a very filmmaker driven studio.
Famke Janssen, presenting and taking part in the National Board of Review tribute to Barbara Broccoli and Daniel Craig, 50 Years of Bond Films, was the villainous Bond girl Xenia Onatopp in GoldenEye.
AKT: We spoke at last year's Gotham Independent Film Awards when you were presenting the euphoria Calvin Klein Spotlight on Women Filmmakers' "Live the Dream" grant. Do you live in New York?
Famke Janssen: I live in New York. I walk around with my dog. I wear no make-up, when I go shopping for food. I love it.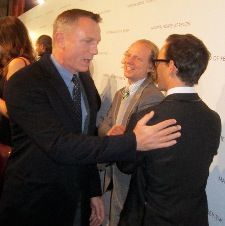 AKT: People are talking about their dogs tonight. What kind of dog do you have?
FJ: A Boston Terrier. Who else mentioned their dog?
AKT: Quvenzhané Wallis, the little girl from Beasts Of The Southern Wild.
FJ: Oh my God. I just want to hug her up. She's like a little puppy.
AKT: Quvenzhané has a poodle handbag. What are you carrying?
FJ: (Opening her bag to look into it) It says sample.
AKT: You are here tonight to celebrate James Bond in all his incarnations.
FJ: It's unbelievable that for 50 years they kept the franchise alive. And it's very clever how they've done it. They brought a new Bond in. They kept up with the times. They brought new women in. They made M into a woman at some point. They're constantly reinventing the genre.
Skyfall's Daniel Craig, looking dashing, dashed in to be honoured for his contributions to the Bond legacy. Skyfall has received five Oscar nominations.
You can read the Oscar nominations in full here and the BAFTA nominations here.
Share this with others on...