Dracula Untold
Blu-Ray Review
To defeat a Turkish invasion, medieval Romanian warlord Vlad Tepes must enter into a demonic bargain.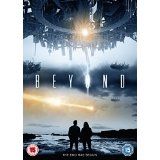 Beyond
DVD Review
As an object of uncertain origin hurtles towards Earth, a young couple struggle to face the future.

Mood Indigo
DVD Review
This dreamlike story of two pairs of lovers, a cook and a kitchen mouse is an adaptation of the cult novel by French writer Boris Vian.

The Girl Who Knew Too Much
Blu-Ray Review
A young women who loves crime novels thinks she may have uncovered a real life murder mystery.

The Killing Fields
Blu-Ray Review
A journalist and photographer are separated when the Khmer Rouge takes power in Cambodia, one winning awards, the other struggling to survive.

Saving Santa 3D
Blu-Ray Review
An elf travels back in time to save Santa's sleigh