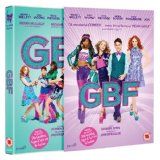 G.B.F.
DVD Review
After being accidentally outed, a shy teenager finds he has become the ultimate fashion accessory - the Gay Best Friend.
Orca - The Killer Whale
DVD Review
After his partner and unborn child are killed, a killer whale seeks revenge on the humans responsible.

The Hobbit: The Desolation Of Smaug
DVD Review
The dwarves and their companions continue their quest to rid their homeland of the dragon, Smaug.

Fire In The Blood
DVD Review
A look at the struggle to make anti-retroviral ADS drugs available to infected people worldwide, no matter their financial resources. Read what Dylan Mohan Gray told us about
making the film
.

Frankenstein And The Monster From Hell
DVD Review
A young surgeon committed to an asylum finds himself taken on as an assistant by its resident doctor, the legendary Baron Frankenstein.


Don Jon
DVD Review
A porn-obsessed man tries to give up the one-night stands when he meets a woman whose appeal might exceed his fantasies.


The Stuff
Blu-Ray Review
When a dessert starts taking on a life of its own, it spells trouble for the local populace.

Gravity
Blu-Ray Review
A medical engineer and an astronaut work together to survive after an accident leaves them adrift in space.