Neruda
DVD Review
Story of the Nobel prize-winning poet Pablo Neruda, who becomes a fugitive in his homeland.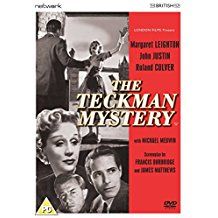 The Teckman Mystery
DVD Review
A biographer researching a book on a pilot who died during the test flight of a new plane falls in love with the pilot's sister. As he uncovers more about the test flight, people connected with the case begin to die.

The Autopsy Of Jane Doe
Blu-Ray Review
Father and son coroners get more than they bargained for when they examine a cadaver.

The Bird With The Crystal Plumage
Blu-Ray Review
After a man witnesses an attempted murder, he soon finds himself the next killer's next target


Mandy
DVD Review
A teacher tries to help a deaf and mute child to communicate.

12 Angry Men
Blu-Ray Review
One member of a jury tries to convince the others not to convict a man.

Mulholland Drive
Blu-Ray Review
Special two-disc edition of David Lynch's psychedelic dream.