Sharknado 2: The Second One
Blu-Ray Review
Three potentially deadly sharknados threaten to converge on New York City.

Hide Your Smiling Faces
DVD Review
Tragedy forces a group of children to confront their own mortality.

Two Days, One Night
Blu-Ray Review
Sandra, a young woman assisted by her husband, has only one weekend to convince her colleagues to give up their bonuses so that she can keep her job.

Filmed In Supermarionation
Blu-Ray Review
Documentary about the puppetry output of Gerry and Sylvia Anderson.

3 Days To Kill
Blu-Ray Review
A retired secret agent facing terminal brain cancer is persuaded to take on one last job, but has to try and look after his estranged teenage daughter at the same time.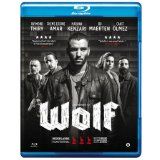 Wolf
Blu-Ray Review
A troubled young man is torn between a potential career as a kickboxer and a life of petty crime.

Sofia's Last Ambulance
DVD Review
Sofia, the capital city of Bulgaria, has more than two million inhabitants and only 13 ambulances... this documentary follows one of them.