Drunken Master
Blu-Ray Review
A young tearaway is sent to learn kung-fu from his strict, mysterious and heavy-drinking uncle.

Life Of Oharu
Blu-Ray Review
A privileged woman struggles to survive in a strictly hierarchical society, and is unable to prevent her life from spiralling downwards.


Solaris
Blu-Ray Review
A psychologist is sent to a space station to find out what has become of the occupants.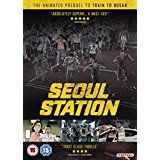 Lone Wolf And Cub Box Set
Blu-Ray Review
After the rest of his family is killed, a former Shogunate executioner takes his baby son on the road with him and they make a living as assassins while awaiting an opportunity for revenge.
Multiple Maniacs
Blu-Ray Review
When she discovers that her boyfriend has betrayed her, the leader of a criminal gang vows revenge.


The Man Between
DVD Review
Intrigue and kidnaps amongst the ruins of Berlin immediately after the war