Here's your chance to add to your DVD or video collection for free! We're also giving away some fun stuff to help you become the envy of your family and friends, so don't forget to check back regularly.
To be eligible to enter for the competitions you must be registered. It's easy and only takes a minute. For full terms and conditions see below.
Proud Valley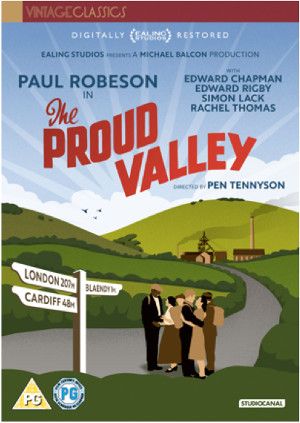 A brand new restoration of Ealing Studios classic The Proud Valley comes to Blu-Ray, DVD and EST on 27 March as part of the Vintage Classics collection courtesy of Studiocanal. Lovingly remastered, the film stars the highly revered black screen actor Paul Robeson (Song of Freedom, Show Boat), whose work was recently honoured in the BFI's Black Star season celebrating the range, versatility and power of black actors.
Set in the Welsh mining valleys this popular social drama is an authentic portrayal of working-class life and society struggles which rung true with Robeson, a political activist in his own right, and is the second of just three films ever made by the young director Penrose Tennyson (There Ain't No Justice, Convoy). The Proud Valley was Robeson's final British feature and the one film that in his own words, he was "proud of having played in".
David Goliath (Robeson), a charismatic African-American stoker, washes up in a small Welsh village where he finds work alongside the miners down the pit. A competent singer, Goliath's roaring voice soon draws the attention of the local choir master Dick Parry (Simon Lack: The Silver Darlings, Enemy at the Door) and his son Emlyn (Edward Chapman: Convoy, It Always Rains on Sunday), who have ambitions of winning the national choir contest.
Following a deadly explosion, the pits are closed, leaving the villagers out of work and struggling to make ends meet. Wanting to help the community that welcomed him so generously, David rouses a group of activists to march to London in the hope of reopening the mine in time to serve the nation at the outbreak of war.
To celebrate the release of the film, we've got three DVDs to give away. To go into the virtual hat, just read our review of Borderline, and tell us the first name of the character played by Robeson in that film.
Closing date: 7 Apr 2017
Terms and conditions
Our competitions are only open to registered subscribers to our newsletter
Only one entry per competition per person. Duplicate entries will be discarded.
After the competition closing date, winners will be contacted for their full address details and these will be forwarded to the relevant company who will send your prize directly to you. This is the only time that we will pass your details on.
For all our competitions the minimum age of entry is 18 unless otherwise stated.
Competitions are only open to UK residents (including Northern Ireland).
Entries made via third parties are invalid.
In the unlikely event of supply difficulties we reserve the right to replace the stated prize with another of comparable or greater value.
We make every effort to contact winners via email - but if winners fail to respond within four weeks of the draw being made we reserve the right to redraw the prize
By entering any of our competitions you are confirming that you agree to be bound by the above terms and conditions.
Share this with others on...