TWITTER
A life of excess is complicated by a killer in giallo Your Vice Is A Locked Room And Only I Have The Key… Link
Olaf Möller shares his thoughts on curating The Lost Years of German Cinema: 1949–1963 Link
A horror film composer gets too close to a real killer in Lamberto Bava's A Blade In The Dark Link #Abertoir2017
Documentary Let It Fall explores the background to the beating of Rodney King and the Los Angeles riots Link
Follow us on Twitter.

NEW DVD HIGHLIGHTS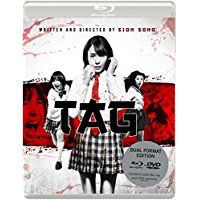 Tag
Blu-Ray Review
A girl's life cascades into chaos as everyone around her suffers a gruesome fate while she herself becomes less and less certain of who she is and what kind of a world she lives in.
The Incredible Shrinking Man
Blu-Ray Review
Following exposure to a mysterious gas, a man begins to shrink - and doesn't stop.