TWITTER
A small town doctor responds to an assault on his daughter in Graduation Link #NYFF54 #NYFF #LFF #LFF2016
The story of code-breaker Bill Binney is told in A Good American Link
Snowden director Oliver Stone brands Obama state security 'way beyond East German Stasi' in San Sebastian Link #SSIFF64
We check out four more great films set to screen at the New York Film Festival Link #NYFF #NYFF54
Follow us on Twitter.

NEW DVD HIGHLIGHTS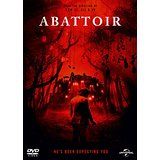 Abattoir
DVD Review
After the death of her sister and nephew, real-estate investigative reporter Julia uncovers the sinister truth behind a series of gruesome murders where the entire killing rooms have been dismantled and pulled from their foundations.
The Flight Of The Phoenix
Blu-Ray Review
A group of men are stranded in the desert after their plane gets caught in a sandstorm.