TWITTER
We look back at influential Seventies thriller Death Car On The Freeway Link
We still have a few more reviews to come in, but you can see our extensive coverage from Glasgow here Link #gff15
We look back at the final two days of this year's Glasgow Film Festival Link #gff15
A teen werewolf on the run stumbles into a town full of Wolves Link - out on DVD now (special features review coming soon)
Follow us on Twitter.

NEW DVD HIGHLIGHTS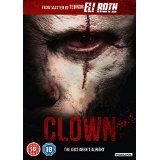 Clown
DVD Review
A father puts on a clown costume for his son's birthday but then discovers he can't take it off - and worse, it's possessed by a demon.
Ragnarok - The Viking Apocalypse
DVD Review
An archaeologist takes his kids to explore the remains of a Viking expedition, but what they find is something much more ancient - and still alive.