TWITTER
James Schamus discusses the ideas behind Indignation Link
A production company has admitted some responsibility for an accident that could have killed Harrison Ford Link
A sexual encounter with a ghost leaves a young woman battling disease in Lace Crater Link
Blue tang Dory goes in search of her parents in Finding Dory Link
Follow us on Twitter.

NEW DVD HIGHLIGHTS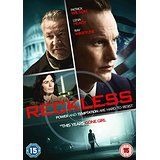 Reckless
DVD Review
A high flying lawyer develops a habit of using escort services, putting his marriage and career in danger.
Police Story: Lockdown
DVD Review
A police officer, his daughter and a group of strangers are taken hostage by a nightclub owner, but all is not what it seems.