TWITTER
"This movie is really the equivalent of chamber music" - Barbet Schroeder on Amnesia Link
A lesbian gives in to desire and has to live with the consequences in Playing With Balls Link
Four German soldiers face the horrors of the front line in GW Pabst's Westfront 1918 Link
The Japanese girlband/fanbase phenomenon is explored in Tokyo Idols Link #edfilmfest #Fantasia
Follow us on Twitter.

NEW DVD HIGHLIGHTS

Neruda
DVD Review
Story of the Nobel prize-winning poet Pablo Neruda, who becomes a fugitive in his homeland.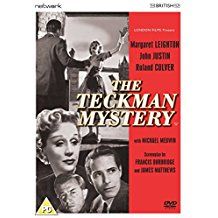 The Teckman Mystery
DVD Review
A biographer researching a book on a pilot who died during the test flight of a new plane falls in love with the pilot's sister. As he uncovers more about the test flight, people connected with the case begin to die.