TWITTER
Director Kantemir Balagov discusses Closeness, showing as part of Russian Film Week tonight Link #RFW
Special agents sent to investigate a downed satellite find something much stranger in The Rift: Dark Side Of The Mo… Link
The school tribulations of a boy with facial differences are explored in Wonder Link
We take a look at After Love, which is out on VoD now Link
Follow us on Twitter.

NEW DVD HIGHLIGHTS
Will It Snow For Christmas?
DVD Review
On a Provençal farm, a protective and devoted mother raises her seven illegitimate children... under the uncaring eye of the farmer, who is the father of her kids.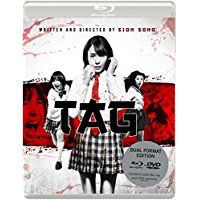 Tag
Blu-Ray Review
A girl's life cascades into chaos as everyone around her suffers a gruesome fate while she herself becomes less and less certain of who she is and what kind of a world she lives in.