FILMS OUT THIS WEEK
This week in cinemas, there's music and romance in La La Land, which has already swept the board at the Golden Globes and a man faces up to his past in fellow Oscar contender Manchester By The Sea. Meanwhile, in France, a doctor faces falling sick himself, but is he Irreplaceable? A young boy facing the illness of his mum gets a surprise when A Monster Calls - read what Sigourney Weaver said about the film here. Meanwhile, in a galaxy far, far away, Rogue One: A Star Wars Story sees the Rebel Alliance threatened by the Death Star. Back on planet Earth - and back in time - two 17th century Jesuit priests face persecution in Japan in Silence. There's also a chance to see Trainspotting back on the big screen. Plus, Alex Gibney's Zero Days takes a look at Stuxnet and cyber security.
TWITTER
From the archive and in cinemas now: A French doctor falls sick, but is he Irreplaceable? Link
We check out Stooges documentary Gimme Danger Link and the extras on the DVD release Link
Son Of Joseph is currently showing @FilmLinc, read what Eugène Green told us about the film Link
French cinema takings take rare nosedive Link
Follow us on Twitter.

NEW DVD HIGHLIGHTS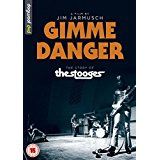 Gimme Danger
DVD Review
The story of The Stooges.

Julieta
DVD Review
A mother and daughter struggle to come to terms with grief.
British film Lady Macbeth will be among the highlights of the Spotlight section at Sundance Film Festival, you can take a look at the full programme via our galleries, including the Premieres. The line-up for London Short Film Festival has also been announced.