TWITTER
We check out Marvel's Guardians Of The Galaxy Link
We explore Twin Peaks: The Entire Mystery, now out on blu-ray Link
"Michael Haneke, he's a a real laugh riot, I bet." John Waters talks to Isabelle Huppert Link
Which films have you rewatched the most? Let us know.
Follow us on Twitter.

NEW DVD HIGHLIGHTS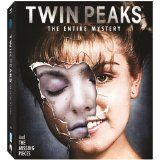 Twin Peaks
Blu-Ray Review
When a detective visits a small town to find out who killed the homecoming queen, he uncovers a much deeper and darker mystery.

The Lunchbox
Blu-Ray Review
A mistakenly delivered lunchbox sparks romance between two lonely people.