FILMS OUT THIS WEEK
This week in cinemas, there's music and romance in La La Land, which has already swept the board at the Golden Globes and a man faces up to his past in fellow Oscar contender Manchester By The Sea. Meanwhile, in France, a doctor faces falling sick himself, but is he Irreplaceable? A young boy facing the illness of his mum gets a surprise when A Monster Calls - read what Sigourney Weaver said about the film here. There's also a chance to see Trainspotting back on the big screen. Plus, Alex Gibney's Zero Days takes a look at Stuxnet and cyber security, and we're bringing you all the latest from Sundance.
TWITTER
Check out our Glasgow Film Festival coverage so far Link #GFF17
The full line-up for this year's Glasgow Film Festival has been announced Link #GFF17
Celia Rowlson-Hall, Ian Bloom and Iva Radivojevic discuss MA Link Link
Isabelle Huppert has received a crystal award at the Ministry of Culture in Paris Link Link
Follow us on Twitter.

NEW DVD HIGHLIGHTS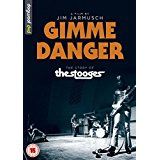 Gimme Danger
DVD Review
The story of The Stooges.

Julieta
DVD Review
A mother and daughter struggle to come to terms with grief.
British film Lady Macbeth will be among the highlights of the Spotlight section at Sundance Film Festival, you can take a look at the full programme via our galleries, including the Premieres. The line-up for London Short Film Festival has also been announced.