FILMS OUT THIS WEEK
The Gunman battles corruption this week, a widowed Mommy struggles with her violent son, and The Voices inspire a factory worker to do very bad things. There's A Second Chance for a man whose baby dies, while Liam Neeson has to Run All Night, and a singer asks a fan to help cover up a killing in Elle L'Adore. There's unexpected romance for a foundling in The Tale Of Princess Kaguya, forbidden love blooms in occupied France in Suite Française, and a young maths genius finds love in X+Y while an alien makes a new friend in Home. Documentary My Name Is Salt explores the salt trade, there's a rerelease for the classic Far From The Madding Crowd, and we're bringing you all the latest from Glitch, BFI Flare, the Italian Film Festival, the New Directors/New Films festival and the Human Rights Watch Film Festival.
TWITTER
And in cinemas this week, The SpongeBob Movie: Sponge Out Of Water Link
The Tales Of Hoffmann is out on DVD and Bluray, we take a look at the film Link and extras Link
Mad Max Fury Road is to have a special screening at this year's Cannes Film Festival Link #Cannes2015
A new Iranian film has sparked controversy by depicting the Prophet Muhammad Link
Follow us on Twitter.

NEW DVD HIGHLIGHTS
The Tales Of Hoffmann
DVD Review
A poet recalls three doomed romances.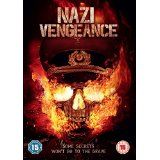 Backtrack
DVD Review
Four young people seek traces of their past lives in the South Downs - and find trouble.