FILMS OUT THIS WEEK
This week sees the opening of The Second Best Exotic Marigold Hotel, a con man falls for a novice in Focus and a young woman goes on the run in Catch Me Daddy. There's inventive horror in It Follows, a Coen brothers obsession leads to danger for Kumiko, The Treasure Hunter, and Jennifer Aniston plays a woman fascinated by a suicide in Cake. There's also bdsm romance in The Duke Of Burgundy, a thoughtful journey into the past in Hinterland, and a tragic look at love through dance in Sea Without Shore, while best men are for hire in comedy The Wedding Ringer. In the documentary corner, Dreamcatcher looks at one woman's attempt to help girls quit sex work - see what director Kim Longinotto said about it - while Life's A Beach meets a man trying to live outside the system and Maidan remembers the Ukrainian revolution. All this, plus we're bringing you all the latest from the New York Rendez-Vous with French Cinema, and we still have reviews coming in from the Glasgow Film Festival and the Berlinale.
TWITTER
A lawyer seduces the daughter of a casino owner in French Riviera / In The Name Of My Daughter Link #nyrendezvous
A former musician strives for direction in Take It Back And Start All Over Link
Matteo Oleotto talks about making Zoran, My Nephew The Idiot Link #iff15
Cinemas up and down the land are having a festival frenzy this month, we take a look at some of the highlights Link
Follow us on Twitter.

NEW DVD HIGHLIGHTS

'71
DVD Review
A young British soldier is accidentally left behind by his unit on the deadly streets of Belfast in 1971.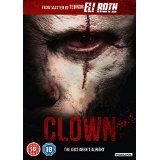 Clown
DVD Review
A father puts on a clown costume for his son's birthday but then discovers he can't take it off - and worse, it's possessed by a demon.