FILMS OUT THIS WEEK
An immigrant tries to make it New York in A Most Violent Year, out this week, while robot intelligence is tested in Ex Machina. We see a woman go Wild trying to find herself, as a Navy SEAL struggles with civilised life in American Sniper. A young drummer has a volatile relationship with his trainer in Whiplash and the story of an American who went to fight in Libya is told in Point And Shoot. Plus we're bringing you all the latest from Sundance.
TWITTER
Ewan McGregor on why playing a Demon was easier than Jesus in Last Days In The Desert Link #Sundance2015
A teenager adjusts to life as a woman while her mother adjusts to life as a man in 52 Tuesdays Link #gff15
Eddie Redmayne has taken Best Actor at the SAG awards Link
US soldiers take on insurgents and aliens in Monsters: Dark Continent Link #gff15
Follow us on Twitter.

NEW DVD HIGHLIGHTS
Dracula Untold
Blu-Ray Review
To defeat a Turkish invasion, medieval Romanian warlord Vlad Tepes must enter into a demonic bargain.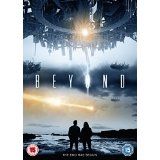 Beyond
DVD Review
As an object of uncertain origin hurtles towards Earth, a young couple struggle to face the future.