TWITTER
Zero Motivation and Point And Shoot win at Tribeca, full story as winners announced Link #TFF2014
Ralph Steadman and Charlie Paul share their thoughts on Steadman's exhibition and new film For No Good Reason Link
Tribeca's New York stories: Gabriel, Summer of Blood, Time Is Illmatic, Five Star and X/Y Link #TFF2014
Sofia Norlin on Broken Hill Blues Link #TFF2014
Follow us on Twitter.

NEW DVD HIGHLIGHTS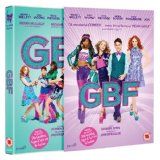 G.B.F.
DVD Review
After being accidentally outed, a shy teenager finds he has become the ultimate fashion accessory - the Gay Best Friend.
Orca - The Killer Whale
DVD Review
After his partner and unborn child are killed, a killer whale seeks revenge on the humans responsible.