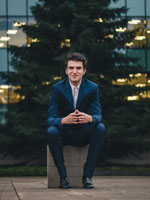 Mladen Pechevski is a film industry freelancer currently based in Sofia, Bulgaria. In 2019, he was a jury member of the Giornate degli Autori section at the 76th Venice International Film Festival and was subsequently heavily involved in organizing the autumn edition of the Sofia International Film Festival for Students. In 2020, he worked as an assistant consultant for the Giornate degli Autori section at the 77th Venice International Film Festival. Furthermore, he was part of the Young FIPRESCI Jury at the 36th Warsaw Film Festival. Mladen has written on film for outlets including Ioncinema, Film New Europe, and Boyscout.
Latest Film Reviews

My Favorite War
The director recalls the impact of Soviet propaganda on her childhood.
Share this with others on...