Eye For Film >> Movies >> The Cottage (2008) Film Review
The Cottage
Reviewed by: Chris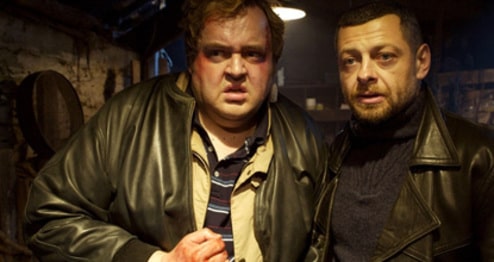 When director Paul Andrew Williams made London To Brighton, I groaned at the rave reviews, the Edinburgh New Director's Award and the BAFTA Most Promising Newcomer. If that sounds uncharitable, it is. I would rather charity – in the form of film hand-outs, prizes and funding - went to true talent rather than attention-grabbing ingredients.
London To Brighton attracted notice with a story of under-age prostitutes in the jolly old UK. As he writes his own material, Williams deserves credit for the (sadly) very marketable storyline. He backed it up with a great opening scene. His beginner's enthusiasm exhausted, he then filled his film with atrocious acting and hoped no one would notice. Inspired by this success, The Cottage repeats the atrocious acting without any socially conscious theme. It is good that young directors get a chance to develop. It is even better when they know what to develop.

A kidnap and ransom go wrong. Unsurprisingly. The kidnappers are as scary as game-show wannabees. They are up against gangsters running a strip club, machete-wielding Orientals, and a blonde bimbo captive who has more brains, brawn and mouth than all of them. Then they get hunted by a psychotic, disfigured and almost indestructible farmer. Described like that it almost sounds worth watching. Sorry. Enjoy the Orange mobile phone trailer beforehand – it delivers more for less and is far superior.
Do you remember Andy Serkis? Probably not. He was inside a King Kong in the 2005 blockbuster and before that suitably disguised as a Gollum. I would be tempted to say he is better not actually showing his face – but he is the closest we get to reasonable acting in The Cottage and he has a potential career as a serious actor.
The rest is a mess. Jennifer Ellison is cast purely for her blonde hair and breasts (the most interesting things in the first half of the film). Reece Shearsmith (League Of Gentlemen) and Steven O'Donnell are tiresomely unfunny as Serkin's hapless helpers in crime. They sound like someone you stopped on the way out of the pub and asked to recite some lines.
If The Cottage was incredibly funny we could forget it was badly cast, badly directed and badly acted. But it isn't. It is like a Simon Pegg (Run, Fatboy, Run; Shaun Of The Dead) script without Simon Pegg. An hour into the movie, the horror aspect eventually picks up. If you went for it as a drunken lads' night out movie this could be par for the course – a woman with knockers followed by a monster with pockmarks. Throw in some cheap and nasty special effects – the butcher's leftovers and some wax left over from The Hills Have Eyes.
Are you easy to please? Does your cinema allow you in with a Special Brew six-pack? Have you cruised singles bars with the lads tonight and been thrown out for being prats? Quick! Please go and see The Cottage before the cinema runs out of such gullible punters.
Reviewed on: 12 Mar 2008
Share this with others on...