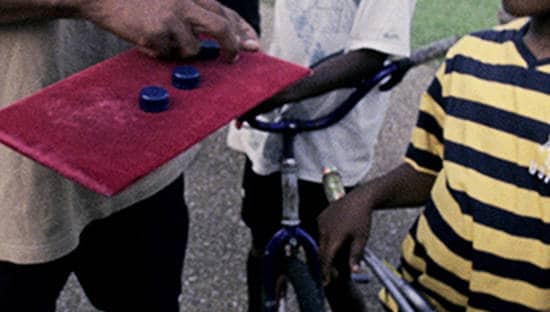 A man with dreadlocks and a cigarillo, a velvet-covered board. On it three blue bottlecaps, under one, a small pink stone. Find the stone, win. It's a small film, close, a documentary of sorts - there's certainly a fiction but it's one happening in front of us. Part of Kevin Jerome Everson's astonishing output, this is verite without the detachment of Herzog - there is obfuscation, but it's physical. Screening at Glasgow's 2018 Short Film Festival during its opening event, festival director Matt Lloyd described is a film where you end up wanting to look round someone's shoulder.
It's shot simply, straight through, in tight proximity to those at the table, themselves huddled close near the concrete walkway of some park, somewhere. The dealer is raconteur, telling stories of his losses, craft, patter, the slightness of the gear - one of the crowd might be an accomplice (confederate brings in other, purposeful, overtones - this is the South, all those on screen African-American) - but the game is simple enough. Find the stone, a small piece of pink, underneath one of the caps. A game so old they probably ran the scam in Ancient Athens, a scam so small that since at least the Restoration it's been known as thimblerig. The cigarillo is in a holder, there's cash in pockets, things bumble and bustle and weave and move and everything is clearly in hand. Though the outcome is not unexpected - never give a sucker, etcetera - it's still a surprise.
Documentary at its very best finds something interesting and depicts it in a way that is itself of interest, and Everson's camera sits at head height, bobbing in a thicket of shoulders, bumped and buffeted and manipulated as deftly as the odds on this unfair table.
The stone might be aquarium gravel, a quartz nearly rose, there's not quite enough definition and I'm no geologist - what I can say is that this is a gem, a diamond because of its roughness. A film that engages with its subject so ably and whose subject so engages that with the camera crowding in your seat you will shift, so caught in that flow of one and two and three and reveal that you will crane your neck to get a better view. That, too, is the trick, the magic of cinema.
Reviewed on: 16 Mar 2018
Share this with others on...