Eye For Film >> Movies >> Mean Streets (1973) Film Review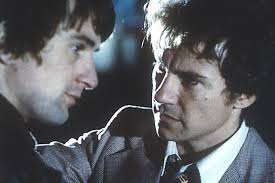 Though a practising Catholic, local goldenboy Charlie (Harvey Keitel) is a small-time hood with aspirations of running his own restaurant. While his uncle is the neighbourhood boss (Cesare Danova), Charlie's progression up the ranks is in jeopardy thanks to a relationship with epileptic girl Teresa (Amy Robinson) and his best friend Johnny Boy's (Robert De Niro) mounting debt to loan shark Michael (Richard Romanus).
You know how acting legend Robert De Niro is known for playing twitchy, tough-guy gangsters who repeat themselves? Well that all started here. You know how he enjoyed a long-standing successful collaboration with directing genius Martin Scorsese (that included Taxi Driver, Raging Bull, Goodfellas and Casino among others)? Well that all started here. You know how the pair essentially defined the modern mob movie between them? Well – yeah you guessed it – that all started here.

Growing from his abandoned script and modified following the advice of girlfriend Sandy Weintraub (less religion-based angst, more "you lookin at me?"-type gangland antics), Mean Streets is the movie that got Scorsese noticed. Though produced on a less-than-shoestring budget and lacking the polish that glamorised ganglife in his later pictures, it's a powerful experience, brimming with raw talent, streetwise grit and a pre-Boris the Blade character who refuses to die after multiple gunshots.
While it's not Scorsese's best given the rest of his class-bulging resume, it's definitely his most seminal. Intimate, personal and undoubtedly semi-autobiographical (he grew up in New York's Little Italy watching life unfold outside his window as a sickly child), the bespectacled director confidently pens a love letter to his youth while littering the landscape with his future hallmarks.
We've got a main character conflicted over loyalty to a loose-cannon friend a la Liotta/Pesci in Goodfellas and De Niro/Pesci in Casino. We've got an impending sense of doom reminiscent of Taxi Driver, Raging Bull and nearly every mob-based flick to come. Hell, there's even Jumping Jack Flash, to mark the start of his Rolling Stones movie love affair that ran all the way to recent biopic Shine A Light. Who says you can't get no satisfaction?
Though Keitel offers an impressive, anchoring performance as the guilt-racked Scorsese-vessel Charlie, De Niro steals the movie with a star-making turn. Yes it's the flashier role, but the fresh-faced Bobby buzzes with instinctive unpredictability and cocksure charm, while rendering the blueprint for future generations' archetypal gangster. In fact, he's so good you might even forget about Rocky And Bullwinkle.
Probably lost on today's cinemagoers who like their gang-movies filled with copious outbursts of violence and blood spurting all over the shop, Mean Streets is an undoubted classic. Marty and De Niro combining for the first time? The start of a beautiful friendship, indeed.
Reviewed on: 03 Feb 2009
Share this with others on...