Eye For Film >> Movies >> Looking For Eric (2009) Film Review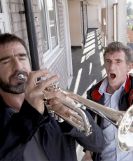 Looking For Eric
Reviewed by: Jennie Kermode
Eric Bishop (Steve Evets) has a hard life. It's been years since his second wife left him and now his stepsons are teenagers, drinking and playing video games and refusing to go to school and trashing the house. Perhaps he brought it on himself by walking out on his first wife, whom he still loves, during a crisis of confidence brought on by fatherhood.
He still has a good relationship with his daughter and enjoys looking after her baby, but now she has requested that, in order to do so, he make contact with his first wife again. Such is Eric's sense of guilt and self-hatred that he doesn't know where to turn. He doesn't know how to talk to the workmates who want to help. The only person he feels he can talk to - through the poster on his bedroom wall - is Eric Cantona.

The legendary centre-forward is no stranger to fan worship. He speaks fondly of one fan who followed him from Leeds to Manchester United, breaking a cardinal rule of football support and switching team allegiance. Positive from the outset about participating in this film, he worked closely with screenwriter Paul Laverty to develop the story, but up until the last minute none of the cast knew that he was actually going to appear in it. When Eric Bishop hears a familiar voice answer one of his questions and turns around to see the real Eric Cantona behind him, it is the actor, as well as the character, who is flabbergasted.
"Is it really you?"
"It's really me."
"Say summat in French then."
Under the tutelage of his hero, Bishop has the chance to turn his life around. Yet it isn't really Cantona who solves his problems - perhaps all he has ever really needed is self confidence and a willingness to let the people who care about him through his carefully constructed facade. All the same, the hurdles he faces are considerable, and events take a very dark turn before the film reaches its climax.
A warm-hearted film which moves effortlessly between scenes of suffering and side-splitting comedy, Looking For Eric is a real gem. Evets gives a superb central performance and is supported by a great team of Manchester stand-up comedians as his friends. As for Cantona, he comes across as intelligent and charismatic but not afraid to send up his own image. Clips showing him at his footballing best are interspersed with meandering philosophy that even Bishop gets sick of, and his proud declaration "I am not a man. I am Cantona." is followed by a spectacularly bad performance of La Marseillaise on the trumpet. He's also open to exploring the homoerotic tension between footballers and their fans, pushing Bishop's boundaries to further comedic effect and, in the process, helping him to understand what really matters in life.
Is it really Eric Cantona? Is he just a figment of Bishop's imagination? In the end, it doesn't really matter. Football is, after all, just a game, but the belief that fans invest in it brings excitement and togetherness into lives which might otherwise seem very grim. Football, this film tells us, provides a space where it's okay to yell and laugh and cry and just be yourself. Looking For Eric has captured some of that magic and watching it is a real delight.
Reviewed on: 07 Jun 2009
Share this with others on...