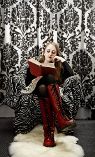 A full time writer, part time academic and human rights advocate, Jennie is content director at Eye For Film, which often means that she has to pick up the awful stuff nobody else wants to review. The good side of this is that it gives her the chance to identify undiscovered gems.
Jennie enjoys a wide range of different genres and would probably say that her favourite film is Picnic At Hanging Rock or Vertigo. Before coming to Eye For Film, she spent two years with Movie Gurus. She has worked as Arts & Culture Editor at KaleidoScot and written on film for the likes of The Independent, Studio Magazine and the Directory of World Cinema. She also writes books, the most recent of which is Growing Older as a Trans and/or Non-Binary Person.
Jennie is a member of the Online Film Critics Society and Cherry Picks and Criticwire. She is also a Rotten Tomatoes registered Tomatometer critic.
We have 3651 reviews by Jennie Kermode in the database: read them here
Latest Film Reviews
Features
News Stories
Galleries