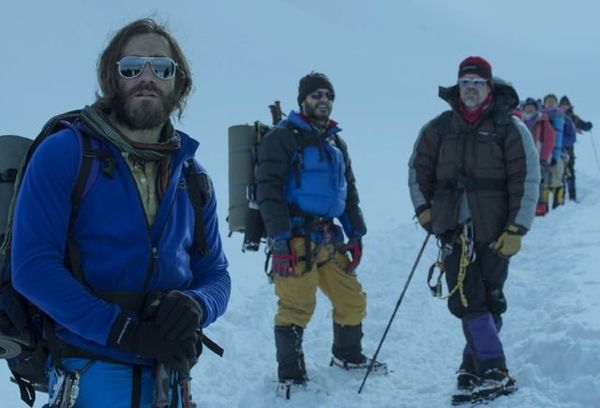 Because it's there.
"The last word always belongs to the mountain," someone says.

Movies about climbing, based on real events, have a sting in their tails. This time - every time - it's death.
For those who choose double glazing from a TV ad and slouch on leather sofas in centrally heated living rooms ask the same question: "Why?"
The madness of it, the machismo, the testosterone buzz, the frostbite, the challenge, the triumph, or the broken rope, the collapsed ladder, the sudden storm makes as little sense as rowing across the Atlantic without a radio.
Below the summit of Everest your body begins to die. The air is too thin. Oxygen helps but cannot replace. Time is of the essence. Get up there and get out. Quick!
By the mid-Nineties the Himalayas had become a commercial hub, attracting every shape, age and gender of climber as well as professional teams of experienced mountaineers who, for a price, performed the role of guide and teacher to the uninitiated.
In the summer of '96, base camp is a hive of activity. So many groups from so many countries competing for the same thing - the top of the world. Rob Hall (Jason Clarke) is leader of one of them. His clients are mainly American with mixed experience. You get to know two or three, but not enough.
What happens next is predictable. Up they go. Down they come. Not all the way. Weather turns nasty. Whoosh!!
Cynics can leave now.
Baltasar Kormákur is an Icelandic director who has achieved something remarkable. Despite inserts of studio footage and product placement that cries foul (The North Face did not exist as an outdoors clothing store until two years later) he manages to recreate a sense of what it feels like to experience that fear. For once 3-D is used to its best advantage. The grandeur and beauty of the place is set against figures of climbers, like black ants, across a white wilderness.
The involvement of wives (Keira Knightley, Robin Wright) back home, worried sick and yet holding it together - just - adds what some might call the human touch and others the sugar content.
It matters little because the drama on the mountain makes up for any suggestion of emotional overload. This is what film was meant to be. A visual heart attack.
Reviewed on: 10 Sep 2015
Share this with others on...