Eye For Film >> Movies >> Casque d'Or (1952) Film Review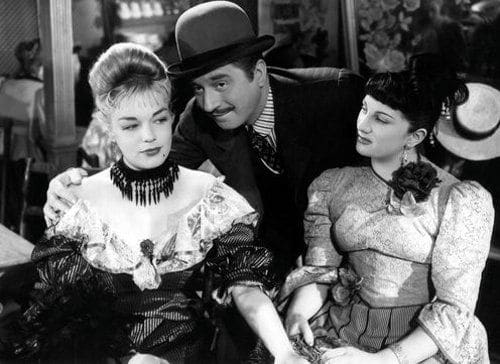 Jacques Becker was always a filmmaker who revelled in the little details, allowing them to be collected in the viewer's imagination to offer a rich and textured backdrop to his films' rather more gritty preoccupations.
Like Becker's other masterpieces – Le Trou and Touchez Pas Au Grisbi – Casque D'Or's principle characters are those caught on the wrong side of the tracks – the criminals, gangsters and loose women who so often populate good French noir. Like those other two films, Casque D'Or relies on male friendship to provide some point of honour and respectability in realities otherwise filled with back-stabbing and shady dealings.

However, what gives this film a slightly different perspective is the presence of a strong female character at the centre of it – Marie (Simone Signoret) – who is more than simply a femme fatale with ulterior motives. Her character could be simply described as the "whore with a heart of gold", but her performance and Becker's script give her more than enough ambiguity for her to stand on her own two feet as a character. There is no sob-story background provided, and no sympathy sought by the feisty Marie.
Marie is the "property" of Roland (William Sabatier), one of gangster boss Félix Leca's (Claude Dauphin) goons, who allows his minions the pick of women from the local brothel. However, when Marie is swept off her feet at a dance by reformed hoodlum-turned-carpenter Manda (Serge Reggiani) – as only black and white movies could have us believe – Roland's jealousy prompts an inevitably bad situation for all involved.
It isn't as simple as bumping off Manda, for he is the good friend of one of Leca's other goons, Raymond (Raymond Bussieres), who intervenes on Manda's behalf. Add in to the mix the lustful gaze with which Leca has Marie fixed, and it's things take a turn for the worse.
Becker has a simple and unobtrusive style, which produces a natural tension that others, with choppy editing and abundant close-ups, try to force from the viewer with less impressive results. Becker trusts his actors and their small movements and gestures to portray meaning beyond the dialogue.
When Marie is brought to Leca after offending Roland, she asks for a knife to cut some cheese, resting on the table before them. Leca pointedly produces a large switch-blade from an inside pocket, while asking: "So you've fallen out with your man, eh?". Marie nonchalantly slices the cheese with the knife, teasingly nibbling the slithers from the end of the razor-sharp blade. Both eye each other up through their acts of bravado, trying to out-bluff the other. "This isn't good for business, y'know" says Leca. Marie's mouth says nothing, her eyes say: "What is a girl to do?"
It may not hit quite as many high notes as the unbearably tense prison break-out drama Le Trou, or have quite the same sense of daring, joyous noir as Touchez Pas Au Grisbi, but for this excellent film to appear as a poor relation in comparison is merely a credit to the underrated work of a true French master.
Reviewed on: 05 Nov 2012
Share this with others on...