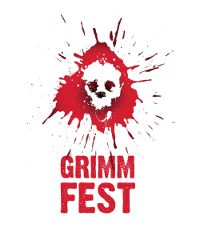 View other Grimmfest Films by strand: Fringe, Shorts
The Canal
(Country: Ireland; Year: 2014; Director: Ivan Kavanagh; Writer: Ivan Kavanagh; Stars: Antonia Campbell-Hughes, Rupert Evans, Steve Oram, Hannah Hoekstra, Calum Heath, Anneke Blok, Serena Brabazon, Maura Foley, Anthony Murphy, Kelly Byrne, Sinead Watters, Carl Shaaban, Alicja Ayres)
Film archivist David and his wife are perfectly happy—or so he believes. When a looming secret shatters their marriage at the same time as a turn-of-the-century film reel he is studying reveals their house to be the site of a 1902 multiple-murder, David begins to unravel, and the house's eerie history threatens to repeat itself.
Coherence
(Country: US; Year: 2013; Director: James Ward Byrkit; Writer: James Ward Byrkit, James Ward Byrkit, Alex Manugian; Stars: Emily Baldoni, Maury Sterling, Nicholas Brendon, Elizabeth Gracen, Alex Manugian, Lauren Maher, Hugo Armstrong, Lorene Scafaria)
A group of old friends gather for dinner... gather for dinner... gather for dinner...
Dawn Of The Dead
(Country: Italy, US; Year: 1978; Director: George A Romero; Writer: George A Romero; Stars: David Emge, Ken Foree, Gaylen Ross, Scott H. Reiniger, Daniel Dietrich, James A Baffico)
During a zombie apocalypse, a small group of survivors seeks refuge in an abandoned shopping mall.
The Forgotten
(Country: UK; Year: 2014; Director: Oliver Frampton; Stars: Shaun Dingwall, Clem Tibber, Elarica Gallacher, Lyndsey Marshal, James Doherty)
A teenager living in a council flat after his parents' break-up comes to suspect that he has a supernatural neighbour.
Housebound
(Country: New Zealand; Year: 2014; Director: Gerard Johnstone; Writer: Gerard Johnstone; Stars: Morgana O'Reilly, Rima Te Wiata, Glen-Paul Waru, Cameron Rhodes, Millen Baird)
A failed criminal is placed under house arrest with her overbearing mother - and the house may be haunted.
Let Us Prey
(Country: UK, Ireland; Year: 2014; Director: Brian O'Malley; Writer: David Cairns, Fiona Watson; Stars: Liam Cunningham, Sophie Stephanie Farmer, Niall Greig Fulton, Bryan Larkin, James McCreadie, Pollyanna McIntosh, Douglas Russell, Hanna Stanbridge, Brian Vernel, Jonathan Watson)
Held in a remote police station, a mysterious stranger takes over the minds and souls of everyone inside.
Life After Beth
(Country: US; Year: 2014; Director: Jeff Baena; Writer: Jeff Baena; Stars: Anna Kendrick, Aubrey Plaza, Alia Shawkat, Matthew Gray Gubler, Dane DeHaan, John C Reilly, Cheryl Hines, Molly Shannon, Thomas McDonell, Paul Reiser, Paul Weitz, Eva La Dare, Zoë Worth, Jenna Nye, Bechir Sylvain)
Beth dying makes life hard. Beth coming back makes it harder.
The Samurai
(Country: Germany; Year: 2014; Director: Till Kleinert; Writer: Till Kleinert; Stars: Michel Diercks, Pit Bukowski)
A young police officer is drawn into a mysterious maniac's murderous plans.
Starry Eyes
(Country: US; Year: 2014; Director: Kevin Kolsch, Dennis Widmyer; Stars: Alex Essoe, Noah Segan, Pat Healy, Amanda Fuller, Shane Coffey)
A waitress desperate to become an actress is willing to do anything to land her dream role.
What We Do In The Shadows
(Year: 2014; Director: New Zealand, US; Writer: Taika Waititi, Jemaine Clement; Stars: Taika Waititi, Jemaine Clement, Jonathan Brugh, Cori Gonzalez-Macuer, Stu Rutherford, Jackie van Beek, Ben Fransham, Elena Stejko, Jason Hoyte)
Vampire mockumentary.
WolfCop
(Country: Canada; Year: 2014; Director: Lowell Dean; Writer: Bannister Bergen, Lowell Dean; Stars: Leo Fafard, Amy Matysio, Jonathan Cherry, Sarah Lind, Aidan Devine, Jesse Moss, Corinne Conley, James Whittingham, Ryland Alexander, Laura Abramsen, Graham Bell, Victor Lam, Glenn LaPointe, Cheryl Mazil, Rob Hoskins)
A lazy small town policeman becomes a lycanthropic crime fighting hero when the moon is full.
Zombeavers
(Country: US; Year: 2014; Director: Jordan Rubin; Writer: Al Kaplan, Jon Kaplan, Jordan Rubin; Stars: Bill Burr, Cortney Palm, Rachel Melvin, Hutch Dano, Rex Linn, Jake Weary, Lexi Atkins, Brent Briscoe, Robert R. Shafer, Peter Gilroy, Chad Anderson, Phyllis Katz)
You know the story: sexy teens head to a secluded lakeside cabin for a weekend of debauched fun, only to be menaced by a mysterious force picking them off one by one. But here, the culprit proves to be a horde of rabid zombie beavers.