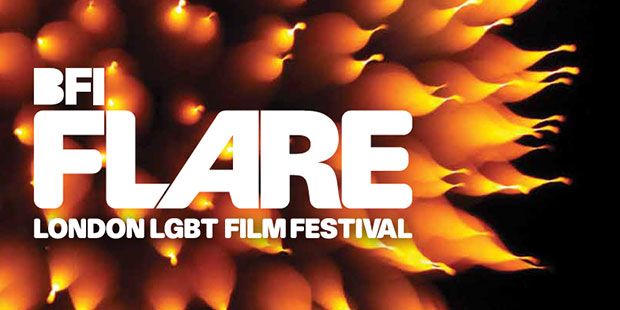 View other Flare Films by strand: Bodies, Galas, Hearts
The Abominable Crime
(Country: US; Year: 2013; Director: Micah Fink)
A documentary about two victims of homophobic violence in Jamaica.
Big Joy: The Adventures of James Broughton
(Country: US; Year: 2013; Director: Stephen Silha, Eric Slade; Stars: Davey Havok, George Kuchar, Armistead Maupin, Anna Halprin, Joel Singer)
A charismatic and visionary poet and filmmaker who emerged in the artistic renaissance of post-WWII San Francisco, James Broughton led a completely unconventional existence in his lifelong quest for creative artistry, sexual and spiritual love and an evolved state of happiness. Big Joy is a celebratory mosaic of Broughton's deeply intertwined creative and personal lives, vividly depicted through his involvement with a wide array of artists, activists and spiritual guides.
Big Words
(Country: US; Year: 2012; Director: Neil Drumming; Writer: Neil Drumming; Stars: Dorian Missick, Gbenga Akinnagbe, Darien Sills-Evans)
A documentary peek at the reunion of three former members of rap group The Down Low Poets on the even of Obama reaching the White House.
Born This Way
(Country: US; Year: 2013; Director: Shaun Kadlec, Deb Tullmann; Stars: Alice Nkom)
A visit to a support centre for LGBT people in Cameroon, and the judge who is fighting for their rights.
Bridegroom
(Country: US; Year: 2012; Director: Linda Bloodworth-Thomason; Stars: Shane Bitney-Crone, Tom Bridegroom)
A documentary about a young man whose life is turned upside down when his partner dies
Continental
(Country: US, Canada, Australia; Year: 2013; Director: Malcolm Ingram)
A documentary about New York City's most famous gay bath house.
Croc-A-Dyke Dundee: The Legend Of Dawn O'Donnell
(Country: UK, Australia; Year: 2014; Director: Fiona Cunningham-Reid)
The story of the ice skating legend who turned to business and helped create Sydney's gay quarter.
Kate Bornstein Is A Queer And Present Danger (Kate Bornstein Is A Queer & Present Danger)
(Country: US, Canada; Year: 2013; Director: Sam Feder)
A documentary about the famous author, playwright, performance artist, gender theorist, recovering Scientologist and pioneering gender outlaw.
Kill Your Darlings
(Country: US; Year: 2013; Director: John Krokidas; Writer: Austin Bunn, John Krokidas; Stars: Daniel Radcliffe, Dane DeHann, Ben Foster, Michael C Hall, Jack Huston, Elizabeth Olsen)
A murder brings together the young writers of the beat generation.
The Man Whose Mind Exploded
(Country: United Kingdom; Year: 2012; Director: Toby Amies)
Story of Drako Zarhazar, who suffers from anterograde amnesia, which means he can't create new memories.
My Prairie Home
(Country: Canada; Year: 2013; Director: Chelsea McMullan; Writer: Chelsea McMullan; Stars: Rae Spoon)
A poetic journey through landscapes both real and emotional, Chelsea McMullan's documentary/musical offers an intimate portrait of transgender singer Rae Spoon, framed by stunning images of the Canadian prairies. McMullan's imaginative visual interpretations of Spoon's songs make this an unforgettable look at a unique Canadian artist.
The Out List
(Country: US; Year: 2013; Director: Timothy Greenfield-Sanders)
Assorted famous people share their stories about what it's like to be openly LGBT in America today.
The Punk Singer
(Country: US; Year: 2013; Director: Sini Anderson; Stars: Joan Jett, Adam Horovitz, Kathleen Hanna, Jennifer Baumgardner, Lynn Breedlove, Johanna Fateman)
A look at the life musician Kathleen Hanna, who formed the punk band Bikini Kill.
Tattoo
(Country: Brazil; Year: 2013; Director: Hilton Lacerda; Stars: Irandhir Santos, Jesuita Barbosa, Rodrigo Garcia, Sylvia Prado)
The story of the cabaret performers who lived dangerously in order to keep life a little bit fabulous during Brazil's day of dictatorship.
Valentine Road
(Country: US; Year: 2013; Director: Marta Cunningham)
In 2008, eighth-grader Brandon McInerney shot classmate Larry King at point blank range. Unraveling this tragedy from point of impact, the film reveals the heartbreaking circumstances that led to the shocking crime as well as its startling aftermath.
Veil Of Silence
(Country: Nigeria; Year: 2014; Director: Habeeb Lawal; Writer: Habeeb Lawal)
A documentary about some of those living in fear due to the criminalisation of homosexuality in Nigeria.
Violette Leduc: In Pursuit Of Love
(Country: France; Year: 2013; Director: Esther Hoffenberg)
A documentary portrait of the writer looking at her importance to lesbian literature and her unrequited love for Simone de Beauvoir.