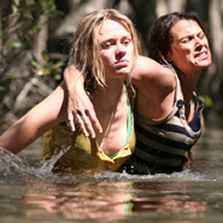 Horror movie Black Water is among the films screening
Now in its 14th year, the London Australian Film Festival prides itself on showing all the major Australian feature films of the year - and offers a great opportunity to get an early look at some upcoming releases. The season runs at the Barbican from March 6 to 16.
Good news for people who don't live in London, the Aussie films are going on tour in June and July.
The tour comprises feature film and documentary highlights from this year's festival including the Audience Choice Award-winning comedy All My Friends Are Leaving Brisbane and Aussie actor Richard Roxburgh's directorial debut Romulus, My Father.
View previous years coverage of the FilmFest Australia festival:
Australia Latest Reviews
FilmFest Australia Features
Festival frenzy
Travel the world from the comfort of a cinema, thanks to a host of international festivals this month.