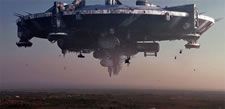 District 9 is among the films screening
Celebrating its fourth edition, the Africa In Motion Film Festival runs at Edinburgh Filmhouse from October 22 to November 1. A number of the films screening will also tour Scotland's Highlands and islands.
This year the festival features 60 films from 22 African countries, including more than 20 UK premieres. There is also a celebration of short film, with a £1,000 prize for the best.
During the opening weekend, the festival is screening films linked to the theme of conflict, trauma and reconciliation in a pan-African context. A number of panel events and discussions will also take place.
AIM Latest Reviews
Africa In Motion Film Festival Features
AiM for diversity
As the Africa in Motion Film Festival kicks off this week, we look at the line-up with festival co-director Lizelle Bisschoff.