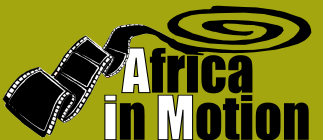 The Athlete (Atletu)
(Country: US, Germany; Year: 2009; Director: Davey Frankel, Rasselas Lakew; Writer: Rasselas Lakew, Davey Frankel, Mikael Aemiro Awake; Stars: Rasselas Lakew, Dag Malmberg, Ruta Gedmintas, Abba Waka Dessalegn)
Biopic/ documentary hybrid about Ethiopian marathon runner Abebe Bikila.
Awaiting For Men (En Attendant Les Hommes)
(Country: Mauritania; Year: 2007; Director: Katy Lena Ndiaye)
Documentary explores the tradition of female wall-painting in the village of Oualata, a Mauritanian town on the edge of the Sahara.
Between Joyce And Remembrance
(Year: 2003; Director: Mark Kaplan)
A hard-hitting look at one of the many crimes that came before South Africa's Truth and Reconciliation Commission.
District 9
(Country: South Africa, New Zealand; Year: 2009; Director: Neill Blomkamp; Writer: Neill Blomkamp, Terri Tatchell; Stars: Sharlto Copley, Jason Cope, Nathalie Boltt, Sylvaine Strike, Elizabeth Mkandawie, John Summer, William Allen Young, Greg Melvill-Smith, Nick Blake, Morena Busa Sesatsa, Themba Nkosi, Mzwandile Nqoba, Barry Strydom, Jed Brophy, Louis Minnaar)
A government agent joins the cause of ghettoised aliens he has come to evict.
Flame
(Country: Zimbabwe; Year: 1996; Director: Ingrid Sinclair; Writer: Barbara Jago, Philip Roberts, Ingrid Sinclair; Stars: Marian Kunonga, Ulla Mahaka, Moise Matura, Norman Madawo, Dick 'Chinx' Chigaira),
Official Site
Story of the Zimbabwe War of Liberation as seen through the eyes of to female freedom fighters.
Le Franc
(Country: Senegal, Switzerland, France; Year: 1994; Director: Djibril Diop Mambéty; Writer: Djibril Diop Mambéty; Stars: Dieye Ma Dieye, Aminata Fall, Demba Bâ)
Comic tale of the trials of a hapless musician.
French Girl (Française)
(Country: France, Morocco; Year: 2008; Director: Souad El-Bouhati; Stars: Ikrame Akaarour, Sofia Alami Hamdouri, Amal Ayouch, Karim Debray, Narjisse Dubois, Hicham El Ghorfi, Salwa El Jadouri, Fatouma El Kanouni, Léa Fontana, Salim Gharbi, Hafsia Herzi, Maher Kamoun, Farida Khelfa, Alexandra Martinez, Victor Moy)
A French youngster rebels when her family relocate to their Moroccan homeland.
From A Whisper
(Country: Kenya; Year: 2009; Director: Wanuri Kahiu; Writer: Wanuri Kahiu; Stars: Ken Ambani, Abubakar Mwenda, Godfrey Odhiambo, Corrine Onyango)
Commemorates the 10th anniversary of the terrorist bombing of the US Embassy in Nairobi in August 1998, in which over 250 people died and more than 5,000 were injured.
The Great Dance: A Hunter's Story
(Country: US, South Africa; Year: 2000; Director: Craig Foster, Damon Foster; Writer: Jeremy Evans; Stars: Karoha Langwane, Xlhoase Xlhokhne, !Nqate Xqamxebe)
Documentary examines the relationship between the Kalahari Desert Bushmen and the desert.
Jerusalema
(Country: South Africa; Year: 2008; Director: Ralph Ziman; Writer: Ralph Ziman; Stars: Daniel Buckland, Robert Hobbs, Eugene Khumbanyiwa, Motlatsi Mahloko, Jafta Mamabolo, Shelley Meskin, Kenneth Nkosi, Ronnie Nyakale, Louise Saint-Claire, Rapulana Seiphemo, Jeffrey Zekele)
A car-jacker tries to climb the greasy pole of success in the underworld of Soweto.
Johnny Mad Dog
(Country: France, Belgium, Liberia; Year: 2008; Director: Jean-Stéphane Sauvaire; Writer: Jean-Stéphane Sauvaire; Stars: Christophe Minie, Daisy Victoria Vandy),
Trailer
As civil war rages in an unnamed African country, the lives of a boy soldier and a young girl fleeing the fighting become intertwined.
Killer Necklace
(Country: Kenya; Year: 2008; Director: Judy Kibinge)
A man goes to increasingly outlandish lengths to please his girlfriend.
Kinshasa Palace
(Country: Democratic Republic of Congo, France; Year: 2006; Director: Zeka Laplaine; Writer: Zeka Laplaine; Stars: Ambre Laplaine, Anna Maria Laplaine, Gaspard Laplaine, Iris Laplaine, Zeka Laplaine, Zezé Motta)
Docu-fiction film sees Laplaine deal with his brother's disappearance and the family dynamics that may have contributed to his departure.
The Law (Tilai)
(Country: Switzerland, UK, France, Burkina Faso, Germany; Year: 1990; Director: Idrissa Ouedraogo; Writer: Idrissa Ouedraogo; Stars: Rasmane Ouedraogo, Ina Cissé, Roukietou Barry, Assane Ouedraogo, Sibidou Sidibe, Moumouni Ouedraogo, Mariam Barry, Seydou Ouédraogo, Mariam Ouedraogo, Daouda Porgo, Kogre Warma, Mamadou Ganame, Noufou Ouédraogo, Amade Ganame, Issaka Porgo)
An illicit love affair and its consequences.
Like a Man On Earth (Come un uomo sulla terra)
(Country: Italy, Ethiopia; Year: 2008; Director: Andrea Segre, Dagmawi Yimer)
Autobiographical film looking at the plight of many who try to flee repression in Ethiopia.
The Little Girl Who Sold The Sun (La petite vendeuse de soleil)
(Country: Senegal, France, Switzerland, Germany; Year: 1999; Director: Djibril Diop Mambéty; Writer: Djibril Diop Mambéty; Stars: Lissa Balera, Aminata Fall, Tayerou M'Baye)
Story of a young, handicapped girl who is determined to be a street vendor. Showing at AiM with Le Franc.
A Love Letter To My Country
(Country: Rwanda; Year: 2006; Director: Thierry Dushimirimana)
Story of a love affair of a Tutsi - whose family were killed in the genocide - and a Hutu - whose relatives are in prison for their part in the atrocity.
Music Crossroads
(Country: Malawi, Germany; Year: 2008; Director: Stephanie Koenen)
Documentary takes a look at the Music Crossroads IRF - a festival that aims to support and celebrate emerging musical talent.
Mwalimu: The Legacy Of Julius Kambarage Nyerer
(Country: Tanzania; Year: 2009; Director: Lekoko Piniel Ole Livilal)
In Tanzania today, Julius Kambarage Nyerere is warmly referred to as "Father of the Nation" - this documentary considers his life.
My Secret Sky (Izulu lami)
(Country: South Africa; Year: 2008; Director: Madoda Ncayiyana; Writer: Julie Frederikse, Madoda Ncayiyana; Stars: Sobahle Mkhabas, Sibonelo Malinga, Tshepang Mohlomi, Sanele Ndawo, Sizwe Xaba, Siboniso Nkosi, Andiswa Mkhize, Joy Mbewana, Slindile Nodangala, Michael Gritten, Israel Makoe, Peter Gardner, Jabulani Mfeka, Themba Khumalo)
Two orphans head for the city in hopes of fulfilling their mother's dream of entering a mat she has made into a craft competition.
Notice To Quit
(Country: South Africa; Year: 1960; Director: Esdon Frost)
The affect of the Group Areas Act - a cornerstone of South Africa's apartheid policy - on the mixed-race inhabitants of Cape Town.
No Time to Die (L'ultime hommage)
(Country: Germany, Ghana; Year: 2006; Director: King Ampaw; Writer: King Ampaw, Klaus Bädekerl; Stars: Fritz Baffour, Kofi Bucknor, Agnes Dapaa, David Dontoh, Emmanuel France, Evans Oma Hunter, Issifu Kassim, Agatha Ofori)
The romantic travails of a lovestruck hearse driver.
Our Forbidden Places (Nos lieux interdits)
(Country: Morocco, France; Year: 2009; Director: Leila Kilani)
Documentary follows Moroccans tracking lost relatives who 'disappeared' as the government sought to silence opposition as they go through a 'reconciliation' process.
The Positive Ladies Soccer Club
(Country: Zimbabwe, Greece; Year: 2008; Director: Holand Joanna Stavropoulou)
Docu-drama about HIV-positive women in the Harare suburb of Epworth who fight stigma by taking up football.
The Reckoning: The Battle For The International Criminal Court
(Country: US; Year: 2009; Director: Pamela Yates; Writer: Peter Kinoy, Paco de Onís, Pamela Yates),
Official Site
A battle of monumental proportions unfolds as International Criminal Court Prosecutor Luis Moreno Ocampo faces down warlords, genocidal dictators and world superpowers in bringing perpetrators of crimes against humanity to justice.
Sanctum I and II
(Country: South Africa, UK; Year: 2009; Director: Jeannette Ginslov)
Experimental dance pieces.
Sea Point Days
(Country: South Africa; Year: 2008; Director: François Verster)
Alongside the southernmost urban centre in Africa, separating city from ocean, lies an unusual strip of land. The Sea Point Promenade - and the public swimming pools at its centre - forms a space unlike any other in Cape Town. All life is here and this documentary captures it.
Sleepwalking Land (Terra Sonâmbula)
(Country: Mozambique, Portugal; Year: 2007; Director: Teresa Prata; Writer: Mia Couto, Teresa Prata; Stars: Nick Lauro Teresa, Aladino Jasse, Ernesto Lemos Macuacua, Filimone Meigos, Tânia Adelino, Erónia Malate, Alan Cristina Salazar, Gildo Arão Balate, Jorge Kanic Passe, Afonso Francisco, Alfredo Júnior, Candido Andrade, Cergílio Félix, Frank Lipunda, Severino Rafael)
In the middle of Mozambique's civil war an orphaned refuge wanders the countryside in search of his mother.
Welcome Back (Wamkelekile)
(Country: South Africa; Year: 2009; Director: Dorotea Vucic; Writer: Dorotea Vucic)
The story of an estranged son, Lukhanyo, who reunites with his mentally challenged father, Simpiwe.
White People Also Dream: The Shamanic Journey Of A Sangoma
(Country: South Africa; Year: 2009; Director: Terry Westby-Nunn)
Story of a young South African and her training to become a traditional Xhosa healer.
Yandé Codou, The Griot Of Senghor (Yandé Codou, la griotte de Senghor)
(Country: Senegal; Year: 2008; Director: Angèle Diabang Brener)
Intimate look at Yandé Codou Sene, one of the last great singers of polyphonic Serere poetry.
The Yellow House (La maison jaune)
(Country: France, Algeria; Year: 2008; Director: Amor Hakkar; Stars: Hamdi Aya, Tounes Ait Ali, Ghomrassi Bissa-Ratiba)
A father sets out from rural Algeria to recover the body of his dead son from the city.
Yesterday Still Hoping (Hier encore, je t'espérais toujours)
(Country: Canada; Year: 2008; Director: Catherine Veaux-Logeat; Writer: Catherine Veaux-Logeat)
The story of one woman's search for her husband who 'disappeared' under the regime of Sekou Touré.