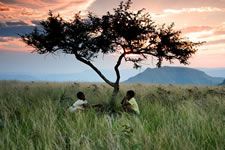 My Secret Sky opens the festival
The fourth edition of the Africa in Motion Film Festival runs at Edinburgh's Filmhouse from October 22 to November 1 and offers the UK's most comprehensive look at the state of the film industry in the continent. Staging a festival which has a pool of 54 countries to draw its films from is no easy feat – but festival founder and co-director Lizelle Bisschoff says they have always found strength in diversity.
The South African, who is currently at the end of her PhD in African cinema at Stirling University, has aimed to curate a festival which offers a broad sweep across the African cinematic landscape and has this year curated – along with her co-director Stefanie Van de Peer – 60 films from 22 countries, including more than 20 UK premieres.
Lizelle says it was her studies that spurred her on to develop the festival.
"When I started my research in African cinema back in 2005, I quickly became aware of how limited access is to these African films and that African cinema is generally marginalised within world cinema," she says "So, I guess I wanted to combine my academic and theoretic research with actually doing something more practical to make films more accessible to audiences.
"I just felt it was not very satisfying for me to write academic papers about films nobody can see. So that was the main inspiration behind the festival. The first one was in 2006 and it has now become a well-established festival and it has been growing every year."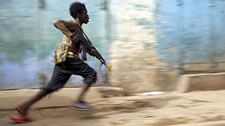 Among the films to look out for this year is Jean-Stéphane Sauvaire's fictionalised examination of child soldiers, Johnny Mad Dog. This is a brutally intense look at the life of those who are drawn into war from an early age, which asks questions about what the world should be doing to prevent this kind of violence and loss of innocence.
The festival opens with the magic realist debut of Madoda Ncayiyana, My Secret Sky, a South African film that tells the tale of two orphans who travel to the city in hopes of fulfilling their dead mother's dream to enter a mat she made into a craft competition.
Also in the line-up are award-winning older films, such as Zimbabwe tale of liberation fighting, Flame, an animation showcase for children, documentary/drama hybrid The Athelte - about runner Abebe Bikila - and a string of factual films. Lizelle says it is no mistake that the programme tries to offer something for everyone.
"We decided from the start that diversity was the main idea behind the curation of the festival," she says "We really wanted to display the richness and variety that exists in African cinema, because Africa is obviously a huge continent - 54 countries - so you can't really make it into a singular concept. So that's always been our approach and that's why we include classic African films and contemporary films.
"We've had an increasing representation of films from previously under-represented regions, such as east Africa. In terms of genre we also try to include as much variety as possible by screening animation, horror shorts over Halloween, documentary, fiction and our short film competition. So we try to make it as varied as possible and it's also a very good way to tap into different audiences, because you can get people interested in different aspects of coming to the festival."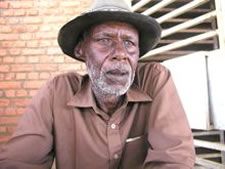 This year's festival also has a theme running across its open weekend of Conflict Trauma and Reconciliation. This means that in addition to several hard-hitting films on the subject – including heart-rending Rwandan documentary Keepers Of Memory and The Reckoning, which takes a look at the role of the International Criminal Court, there will also be panel discussions and a symposium.
"It started with an idea of doing something on Rwanda," says Lizelle "Then as we started off the programming and Stefanie and I went to a film festival in Burkino Faso - the biggest African Film Festival in the world - in February and we saw some other films that might fit into the theme as well.
"We decided it would be pan-African so we started sourcing films from other countries as well. This year is also the United Nations International Year of Reconciliation, so we wanted to link to that as well. Stefanie told me they are really impressed with our programme and they've asked us to write a report that will be presented to the UN Secretary General after the festival - which is quite exciting for us.
"We also have the academic symposium, which is about art and trauma - it's broader than film, it's about how art is used in Africa to overcome trauma. We want to keep the focus on reconciliation; we don't want to perpetuate images of Africa being a war-torn, problematic continent. The festival has never shied away from those realities, but we wanted to look at how African's have dealt with this and models of reconciliation that we in the west can maybe learn from.
"We decided to have discussions after all the films that are screening that first weekend. We wanted to create a space for our audience to engage with these issues and talk about them afterwards. So we've put together panels of experts who look at the issues of trauma and conflict in Africa from different perspectives and we're bringing them together to talk about the issues."
The Africa in Motion Film Festival starts on October 22 in Edinburgh and a selection of the films will also tour Scotland's Highlands and Islands. You can read our coverage
here
and read more about the films and events at
www.africa-in-motion.org.uk
.
You can also see a selection of trailers and shorts from the festival here.
Share this with others on...