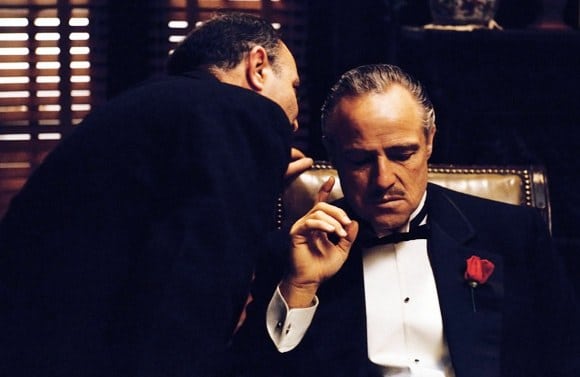 Welcome to this week's Stay-At-Home Seven. If you're looking for more inspiration, don't forget to check out our latest Streaming Spotlight which, this week, focuses on scary Christmas movies.
The Godfather, BBC iPlayer, until January
Here's an offer you can't refuse - a stone-cold Seventies classic. This film marked a run of serious form from Francis Ford Coppola, who would follow it up with The Conversation and, bucking the trend for sequels, the equally excellent The Godfather: Part II. This tale of Don Vito Corleone's family and the shifting face of the mob in 1940s America continually contrasts family connection with gang brutality and features a who's who of acting greats, including Al Pacino, James Caan, Robert Duvall and Diane Keaton. Robert De Niro - who would go on to play the young Corleone in the sequel - auditioned for the role of Sonny (played in the film by Caan, who won an Oscar nomination for his portrayal) and you can take a look at that here. Read our full review.
Close Encounters Of The Third Kind, Netflix
Speaking of Seventies classics, Steven Spielberg's tale of alien first contact arrived on Netflix at the start of the month. Oddly enough, Richard Dreyfuss was not among the film's Oscar nominees, although his co-star Melinda Dillon was. He plays Roy Neary, a man whose sighting of a UFO acts as a sort of odd epiphany - the irony being that he can communicate with aliens more easily than his family - and who encounters Jillian Guiller (Dillon), who is searching for her son. Somehow, Spielberg manages to retain Dreyfuss' everyman quality despite his obvious flaws, while also touching on one of his favourite themes, suburban anxiety in Middle America, from family breakdown to job loss. The visuals have stood the test of time and hover at the sweet spot between awe and horror. John Williams' five note sequence has long passed into collective memory as a short-hand for spookiness. Read our full review.
The Happy Prince, BBC2, 9pm, Friday, December 18
While writer, director and star Rupert Everett might be a bit too in love with Oscar Wilde for his own good where this biopic is concerned it is still well worth catching for his central performance. He could have been born to play the playwright and his own career has featured plenty of notable performances in works by him, including The Importance Of Being Earnest and The Ideal Husband. Everett the actor masterfully evokes the mournful mix of decadence and decay of the last years of Wilde as he charts the writer's decline after serving two years' hard labour for his affair with Bosie (Colin Morgan), while the action is punctuated by a retelling of the fairy tale of the title. While the action feels stagey in places and Everett slides towards the sentimental in his retelling, there's no taking away from the heartfelt performance at the film's core. If you want to get yourself in the mood, you can catch Everett as Algy in Earnest at 2.45pm the same day on BBC2. Read our full review.
Wreck-It Ralph, BBC1, 2.55pm, Saturday, December 19
Disney's story of a video game bad guy who gets tired of his lot and becomes determined to prove he's a hero by winning a medal has a great deal of fun playing around with game genres, from racing cars to space annihilation, while the humour keeps younger and older generations on board. The tale references everything from The Wizard Of Oz to Mario Kart but it wears its references lightly, keeping its strong, fresh story of friendship and loyalty front and centre. The voicework features John C Reilly as Ralph and Sarah Silverman as game "glitch" Vanellope – who also just wants to fit in – although Alan Tudyk's King Candy, which evokes bad guys of animation old, is my personal favourite. Read our full review.
The Big Sick, BBC1, 1.10am, Monday December 21
Real-life comedy couple Kumail Nanjiani and Emily V Gordon based this tale of a culture-clash relationship upon their unconventional courtship – a romance that began with Gordon heckled stand-up Nanjani from the crowd. Kumail is Muslim, with a family dead set on arranging marriage for him, but the film opens out from familiar culture-clash territory when Emily becomes very ill. Suddenly, with Emily in a coma, Kumail finds himself having to woo her parents – played with sharp timing and verve by Holly Hunter and Ray Romano – who are armed with the complete playbook on the pair's relationship so far. Although the film meanders a bit, the story, no doubt because it is rooted in truth, feels original and the humour and emotion hit home in all the right places. Read our full review.
Monos, Netflix
This riff on Lord Of The Flies - the Peter Brook classic version of which is showing on Talking Pictures TV this Saturday at 3.4pm - boasts some breathtaking, not to mention highly dangerous looking cinematography by.Jasper Wolf and a score to die for from Mica Levi. The story of eight child soldiers leading a feral existence with their captive in a remote part of Latin America sees Alejandro Landes generate a nightmarish mood from the start, which feeds off the unpredictability of the youngsters as the group begins to fragment. Landes' film not only has a cow with the wonderfully surreal name of Shakira but also a deliberately chaotic, gripping energy that proves addictive. Read our full review.
21 Grams, Sony Pictures TV, 1.05am, Tuesday, December 15
Alejandro González Iñárritu obviously enjoyed the idea of interlocking stories so much with Amores Perros that he returned to a similar structure for his English language debut. But the lives of a former addict (Naomi Watts) and born again ex-con (Benecio Del Toro) and a college professor (Sean Penn) intersect with even more complexity than his previous film. Using handheld cameras to grab the attention and featuring three impeccable central performances – although Del Toro just edges it – this meditation on mortality is given added heft by its initial puzzle structure. Read our full review.
This week's short selection is Guilty By Nature, directed by Joseph Barnett, which brings a heightened sense of reality to the year in a life of a nursery shrub.
Share this with others on...