Eye For Film >> Movies >> The Godfather (1972) Film Review
The Godfather
Reviewed by: Chris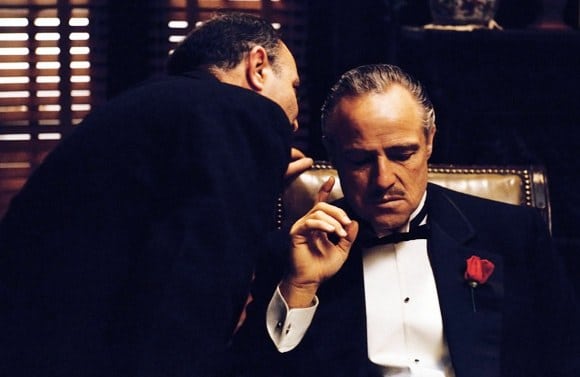 Taking the old-fashioned gangster film to new heights, The Godfather used traditional story-telling freed from the strict censorship that meant bad guys always got their come-uppance. More film noir than thriller, it has no good guys, and we meditate on the small rays of hope within the darkness of corruption, or wonder how far our good and pleasant lifestyles are supported, at some level, by corruption.
In dark, Rembrandt-like backrooms, Don Vito Corleone (Marlon Brando) and his family grant favours, blessings, and generally run things for their friends out in the real, bright and beautiful world. A bride's father traditionally grants any wish, and petitions come from far and wide as Don Corleone's daughter has a colourful wedding celebration outside.

It's 1945. Things are changing. Narcotics is the big new industry that beckons temptingly, and one in which the other Mafia families have already started. Don Corleone is cautious, but his competitors are envious of the control he has over the police and the judges and want him in. Before long, bloody warfare between the gangs ensues.
The Godfather continually contrasts dark and light, external show with violent murky depths, and the devoutness of the gangsters is emphasised. One sequence has a scene of a family baptism intercut with brutal killings ordered by the head of the gang (who is in church). Further similarities to the Roman Catholic Spanish Inquisition might be inferred from a scene immediately afterwards where a confession is obtained from a double-crossing gang member - he is promised redemption but executed anyway.
The double nature of the main characters is convincingly emphasised as we watch Don Corleone play with his grandson in the garden, or his successor Michael (Al Pacino) enjoy the idyllic countryside of Sicily. It is taken to a new level when, in a different situation, he tells a blatant lie compellingly and lovingly to his wife so she doesn't think him a murderer. His gentleness goes hand in hand with his brutal nature.
The Godfather catapulted the career of the young Francis Coppola to great heights and revitalised the career of Marlon Brando. A masterpiece of restrained filmmaking, its biggest fault may be that there are so many characters and details to absorb in the complex family plots for a first viewing.
In a conference over whether or not to deal in narcotics, one of the arguments that sways the day is that if they don't control them, someone else will step in and do so. By dealing in narcotics at the most powerful level, they can keep them away from children. An argument that should perhaps be given greater consideration by legislators.
If anyone has ever made you 'an offer you couldn't refuse', this is the film that created and popularised the phrase. It was meant quite literally.
Reviewed on: 24 Dec 2006
Share this with others on...