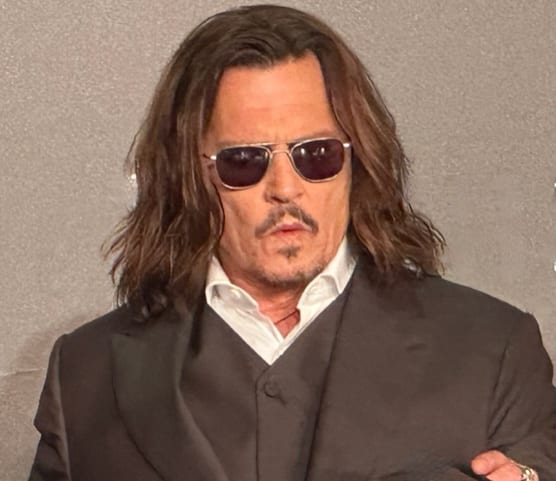 Late arrival Johnny Depp: 'I don't feel boycotted, because I don't think about Hollywood'
Photo: Richard Mowe
Maïwenn
Photo: Richard Mowe
It was a case of "Where's Johnny" as the world's media corps awaited breathlessly for the appearance of Johnny Depp, star of last night's
Cannes Film Festival
's opening film - the historical drama
Jeanne Du Barry
in which he plays the King of France Louis XV opposite Maïwenn (also director) as the infamous courtesan.
The line-up at the press conference which started more than half an hour late, had one ominously vacant seat with the name Johnny Depp attached. Maïwenn and moderator Didier Allouche assured the media that Depp would arrive at any moment. Eventually he did so to an appreciative round of applause.
Seizing the moment the first question revolved Hollywood's alleged boycott of the star and how his role in Jeanne Du Barry marked "a comeback".
"Well, you'd have to not have a pulse to feel at that point like this was all just a weird joke. Of course, when you're asked to resign from a film [Fantastic Beasts] you're doing because of something that's merely a bunch of vowels and consonants floating in the air…" he replied not entirely coherently. "Do I feel boycotted now? No, not at all. But I don't feel boycotted, because I don't think about Hollywood. I don't feel much further need for Hollywood — I don't know about you."
Johnny Depp: ''Comeback' is almost like I'm going to come out and do a tap dance — dance my best and hope you approve'
Photo: Richard Mowe
As for the comeback question he remained perplexed. "I keep wondering about the word 'comeback', because I didn't go anywhere. I live about 45 minutes away from here, in fact. Maybe people stopped calling out of whatever their fear was at the time, but I didn't go nowhere. I've been sitting around. 'Comeback' is almost like I'm going to come out and do a tap dance — dance my best and hope you approve. That's the notion. It's a bizarre mystery."
Many Depp fans are oblivious to the controversy which continues with the release of the film and centred around his legal case and accusations made by his ex-wife Amber Heard. Some protesters were handing out leaflets at the screenings of the film in Cannes and elsewhere in the country following its simultaneous release.
Depp admitted that he was surprised when Maïwenn came calling on him for the role. He was curious as to why she should want "some hilly billy guy from Kentucky to play the King of France. "I did not want to step outside of my box and into someone else's," he said. The director had tried a couple of French actors but came back to Depp because he "excited" her - a necessary part of the relationship.
As for the language Depp acknowledged the help of a voice coach. "She abused me and made me stretch my mouth in weird places. I just hoped the next word would come out in some form of French. I had a lot of help … I think the rest of the cast and Maiwenn were very patient with me. "
Share this with others on...