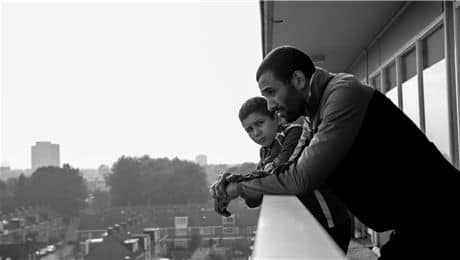 Run down housing estates, a brooding antihero, petty theft, sumptuous black and white photography - Wolf wears its indie credentials on its sleeve, but there's much more here than the usual projected angst. In a precisely crafted film where every element serves the whole, director Taihuttu portrays a crisis of masculinity against the backdrop of a society whose beneficiaries don't seem to have the faintest idea how the other half thinks.
At the heart of it is Majid, the troubled son of immigrant Moroccan parents, with one brother seriously ill in hospital and the other, still a child, alternately awed and terrified by him. We first meet him stealing mopeds with his best friend, and watch as he tries to get his act together on a rehabilitation programme, falls into the orbit of a kickboxing promoter who offers to make him a star, and gets caught up with more serious criminals who see a use for his talents elsewhere. Caught between conflicting senses of honour and duty, wary of committing to anything, he gets by on his wits but it's clear this won't work forever.
Majid is not a nice man. He's racist, misogynist, and possessed of a hair trigger temper. His father despairs of him; his sometime girlfriend fiercely refuses to tolerate his jealousy. It's a great credit to actor Marwan Kenzari that he is able to keep the audience rooting for him despite this. With most of what comes out of Majid's mouth an attempt to impress rather than real communication, the success of the film depends on what we see on his face in brief, unguarded moments. His performance also redefines the cliché elements of the film (trying to raise money for hospital bills, being asked to throw a fight), turning them into things that feel real and personal, part of one individual's life. Through this, rather than any whining on Majid's part, we come to see how those around him have failed him.
Substantiating this is a portrait of Dutch street life that captures not just the violence and complex loyalties entangling people's lives but also the humour and camaraderie that make room for even the most troubled individuals to find friendship and opportunity. We see the parallel world of the middle classes only briefly and there's an absurd character to it in the context of the film's logic. Everything Majid does makes a kind of sense in the moment despite the obvious spiral of destruction that begins to emerge. The wolf is a quiet, intelligent animal often demonised simply because it's a predator, simply because it's wild.
An intense, compelling vision of a life in crisis, Wolf deserves a wide audience.
Reviewed on: 20 Oct 2014
Share this with others on...