Eye For Film >> Movies >> The Worm Inside (2010) Film Review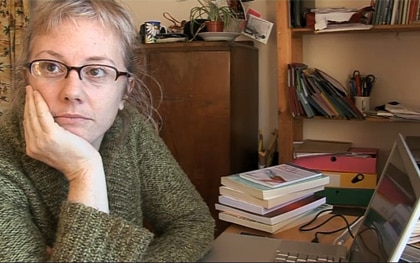 An intensely personal documentary, The Worm Inside follows Sam Firth as she deals with a diagnosis of Grave's Disease, and the various options she contemplates as she tries to come to terms with her condition.
Sam appeared at Glasgow's Short Film Festival, and explained that she had been given the opportunity to make a film, and given the circumstances this was the only film she could make. That's not too surprising, given how much of her we get to see - naked honesty, admittedly, rather than flesh, but all the more intimate for it.

It starts with her explaining how she came to find out she had the condition - at a party someone told her to 'stop making the big eyes', and she said "I'm not". With an perspicacity and alacrity that would put Sherlock Holmes to shame another guest said "That's Grave's Disease", and, well, they were right.
What follows is a wander through the various treatments on offer. The NHS have a perfectly reasonable treatment, radioactive iodine straight into the thyroid, but there is something in her wondering - "if the treatment is so safe why are you not allowed within a meter of anyone for two weeks?" The alternative, and that's the word, is a treatment advanced by an American - hook worms. Grave's is an auto-immune condition, and there's been some recent research about the role that small parasitic infections play in immune response. There's research out there on the subject, but it's far from an approved treatment. Indeed, at one point we learn that he's got a slight problem with "an Interpol thing".
There are some moments of comedy, in particular when she's Skyping her dad. There are some moments of beauty - filmed largely at her house up in Knoydart, well up in the wilds of the North-West coast of Scotland, where the landscape is breathtaking. "Life here is an adventure", and between the sea and sky and the twisted boles of the woods it's easy to see why. There's also some great quantity of drama, as the course of her illness unfolds in surprising, even startling directions.
There's a good soundtrack, music by some of Inverness folk outfit Abigail Grey and also The Deptones, the occasional appearance of other people too, but for the most part it's Sam and her camera.
Short documentary can be an odd beast, often its subjects aren't covered in the depth one would like; other voices not heard, other people not talked to, and then there's the medical stuff. Of course, not all documentaries are equal, and this is only really classed as a documentary because it's true - this isn't about something, but someone's reaction to circumstance. A person, and their illness. It's striking, moving, like being given someone's diary to read.
Reviewed on: 22 Mar 2011
Share this with others on...