Eye For Film >> Movies >> The Lesson (2014) Film Review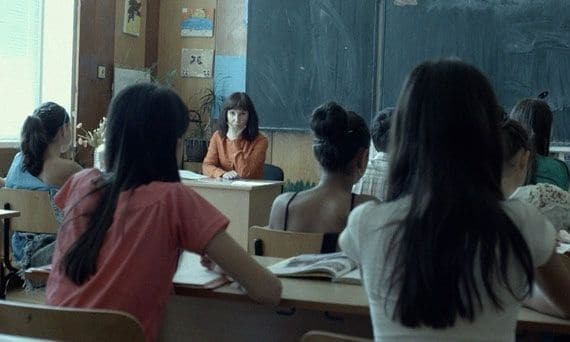 There is not a scrap of flab on Kristina Grozeva and Petar Valchanov's tense drama exploring the mounting wall of debt facing teacher Nadezhda (Margita Gosheva) in a provincial Bulgarian town. Their approach to the economic crisis - something still high in the minds of many across Europe - is measured and it is this very restraint coupled with that of leading actress Gosheva, that make the growing sense of anxiety all the more real. That one of its key events was inspired by a real-life act of desperation only further cements the belief that anyone can get pushed onto a precipice.
Our sympathies are with Nadezhda from the start. An average English teacher in an average school, she is also trying to teach her class of kids a thing or two about honesty after one has cash taken from another's purse, making each of them cough up some coins to help the robbed girl and hatching a plan to try to catch the culprit. She's about to get her own lesson in the lies of others, however, when she discovers that her near-useless/near-drunk husband (Ivan Barnev) has been spending the cash she has given him for their mortgage on bits for a camper van that has camped its last.

With the bank about to sell the house from under them, a young daughter, and a pay cheque from a translation firm eternally promised for "next Tuesday" she is faced with the choice of going begging to her widowed father (Ivan Savov) - so estranged that he can't remember the name of his granddaughter - and his trophy girlfriend or facing the wrath of the local loan shark (Stefan Denolyubov). In short, she is in a place where if a thing can go wrong, it will.
Grozeva and Valchanov - who deservedly won the New Directors award at last year's San Sebastian Film Festival for this - keep the camera with Gosheva, frequently shooting her in long takes so that we have time to soak up her distress. Because Gosheva plays Nadezhda as a woman who tries to keep control, the sliding scale to the edge of her panic is a long and tense one to watch, with one rush to the bank playing out like a thriller despite its naturalistic setting. They don't need a score to add to the tension, instead using excellent sound design of ambient noise such as barking dogs or passing traffic to give a strong sense of place and the idea of life continuing as normal for everyone but Nadezhda.
Ethical acts are met with punishment and moments of kindness are just fleeting enough to make the next torque of tension feel all the more severe - and it if sometimes feels as though the directors push the idea of how much bad luck could befall one person a bit too far, the intesity of Gosheva's performance never loosens its grip. We don't just watch Nadezhda but feel her choices being gradually stripped away until the unlikely seems inevitable. Grozeva and Valchanov's film may be spare but it is unsparing in its conclusions.
Reviewed on: 18 Jun 2015
Share this with others on...