Eye For Film >> Movies >> The Hypnotist (2012) Film Review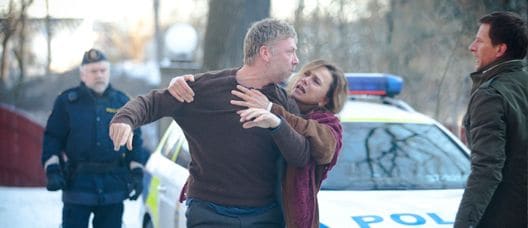 It's horrific enough to find a mother and her two children lying bloodied in their home. When her husband is also found murdered in a nearby gym, it's clear somebody sought them out and planned this. The son, however, has survived, and is carried in a near comatose state into the local hospital. There, detective inspector Joona Linna (Tobias Zilliacus) is desperate to communicate with him, but the boy seems barely capable of recognising his surroundings. So Linna resorts to extreme measures and brings in disgraced psychiatrist Erik (Mikael Persbrandt) to try to make the connection using hypnotism.
A director like Hallström stepping into the burgeoning Scandicrime genre will be thrilling for its fans, and he certainly doesn't fall short on creating that all important neo-noir mood. Early scenes are shot at night. Even in the daytime, colours are muted. Everything is wreathed in snow and the crisp air seems to make the stark absence of clues even crueller, especially when the tables are turned and Erik finds his family in danger. But The Hypnotist also suffers from the genre's typical flaws, with inconsistent plotting and a habit of just forgetting story strands that cease to be convenient. The latter may be an artefact of its adaptation from a book - it feels as if it has been pared down after trying to pack in more than could be made to work within a reasonable running time. In many ways it would work better as a series of episodes than as a film.

The acting is uniformly strong, as viewers have come to expect from Hallström's work, yet nothing stands out - this is really an ensemble piece. There are interesting if somewhat under-developed subplots around Erik's past (handling the issue of false memory more astutely than usual), his shaky marriage (with Lena Olin perfectly cast as his wife) and his difficulty sleeping (recalling Erik Skjoldbjaerg's Insomnia). The problem is that, despite a promising start, it never really develops at a narrative level and the ending opts to sidestep more dramatically interesting material in favour of a showdown that feels a bit extraneous, for all that it's beautifully shot. Furthermore, Linna is never really developed as a character, perhaps because there's a reliance on audience familiarity with him as a literary character which is unlikely to exist among foreign audiences.
All in all, this is likely to intrigue genre fans but not to satisfy.
Reviewed on: 16 Sep 2014
Share this with others on...