Eye For Film >> Movies >> The Hundred-Foot Journey (2014) Film Review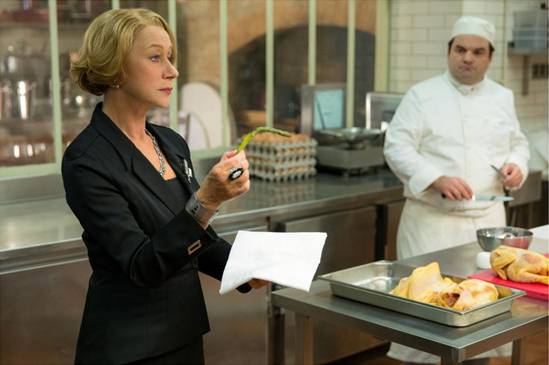 Feelgood movies require a sprinkling of subtlety to counter balance the sweet aroma of happyeverafters. In this latest Chocolat-styled Lasse Hallstrom entree no attempt has been made to disguise the sugar content with a soupcon of acidic wit.
Helen Mirren is in the process of morphing into Judi Dench. Middle England loves a Dame. National treasure Maggie Smith isn't here. Do we miss her? Of course!
An Indian family from Mombai flees the continent after their mother/wife, much respected for her cooking, dies in a fire during riots. They drive around Europe for months, ending up in a small town in France where they settle in a dilapidated building opposite a fashionable Michelin starred restaurant.
The Indians transform this ruin into a curry house with a neon sign and the flash decor of an inner city takeaway. Naturally the owner of the restaurant, Madame Mallory (Mirren), is up in arms against such vulgarity within sight of her establishment.
The film is not entirely without charm. There are moments of genuine affection between Hassan (Manish Dayal), the second son of Papa Kadam (Om Puri), and Marguerite (Charlotte Le Bon), a pretty sous chef in Madame Mallory's employ. Also, everyone speaks English which makes it easier.
Hassan turns out to be a natural innovator in the kitchen and has every opportunity of becoming famous in the world of international cuisine. Meanwhile his dad and Madame Mallory reconcile their differences as fireworks lighten the night sky.
Life, as they say, is a bowl of cherries, except these cherries are presented as an artwork on a plate. Love is family and friendship and riding bicycles through the woods. As for taste, it's marinated in tradition.
After a brief stay at The Best Exotic Marigold Hotel why not skip over to Saint-Antonin-Noble-Val pour dejeuner at Madame Mallory's. The menu may be familiar but the cooking surpasses expectation.
Reviewed on: 04 Sep 2014
Share this with others on...