Eye For Film >> Movies >> The Grave Of Saint Oran (2019) Film Review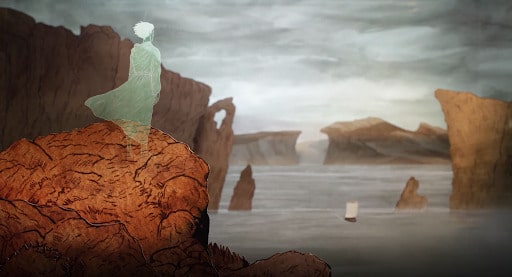 A story exploring what might have taken places between two saints on the isle of Iona in the 6th Century, Jim Batt's atmospheric short (co-produced by Josie Hess) is based on the poem In Relig Odhrain by Neil Gaiman, who provides the narration. It's a real treat for Gaiman fans and a potent little film in its own right.
The story concerns the arrival on the island of saints Oran and Columba, who are determined to build a chapel in a prominent spot - a spot where the Atlantic winds repeatedly tear it down. When Columba has a vision of the sacrifice required to keep the chapel standing, Oran finds himself in peril - but there are stranger things yet to come in this version of a legend that has inspired many a horror writer over the years. It's a tale that reflects the frequent tension between the Christianisation of the Celtic countries and their Pagan past, and it carries a mythic weight which makes it right at home at Fantasia 2020.
With simple but beautiful animation that really captures the atmosphere of Iona and its surrounding waters, this film is a delight to watch. Its characters are designed with reference to Medieval Catholic imagery and their limited expressions only add to the sense of mystery at the heart of the tale. When we think about saints, should we look to their professed beliefs or to their actions? How can we distinguish between the will to martyrdom and simple madness?
On the island of Iona, in film or reality, it's hard to feel a sense of some greater power, but if that's God as Columba imagined him or simply the force of the elements, it made no difference to the fate of Saint Oran.
Reviewed on: 30 Aug 2020
Share this with others on...