Eye For Film >> Movies >> Ten Meter Tower (2016) Film Review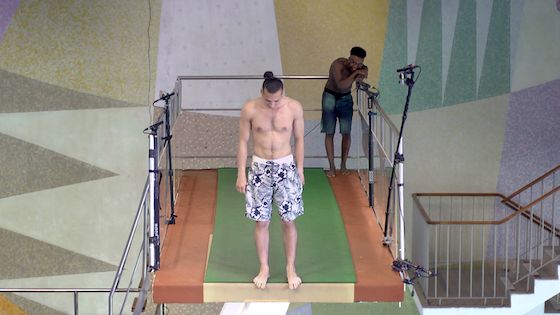 Ten Meter Tower is so immediate in its concept that to say that it's people on a high board deciding whether they will jump into the pool below or not is almost too complex an explanation. "They are high up, let's watch!" is perhaps too click-bait, but in the time that I have spent explaining this and you have spent reading it you could probably find it online to watch.
Screened at 2017's Glasgow Short Film Festival's International Audience Award, the film is best watched with others. The decision to jump may well be an entirely personal one, but this is a film that invites a form of audience participation - its clear that those watching are often reacting to those watching, but that's no bad thing - the same is true on screen.
Using split screen, slow motion, a couple of camera angles, the film allows us to compare and contrast explicitly with framing and implicitly with editing and for all that it exists because people were prompted to the edge it never feels unkind. Using almost nothing except for location sound, there is a single startling use of a stretch of the old Ludwig Van for a particularly acrobatic feat. The version of Ode To Joy is as performed by the Philadelphia Orchestra, Riccardo Muti, and the Westminster Choir, specifically from the album World Cup Football Themes, which is weirdly delicious. There doesn't need to be anything else, this is minimalism in filmmaking to good effect.
Axel Danielson and Maximilien Van Aertryck have found something interesting and from it created something entertaining - a sign of good documentary. More powerfully, they have created something that begs to be shared, not just virally, but in person. As Frida and Linus (you'll see) make clear, relationships are tested by the ten meter tower, but it's in company that this film works best. It's no surprise, then, that it won the audience award at GSFF, and it was a well-deserved victory. In the screenings that Eye For Film attended there was no shortage of laughter, even exhortations of support - see it for yourself and see why.
Reviewed on: 20 Mar 2017
Share this with others on...