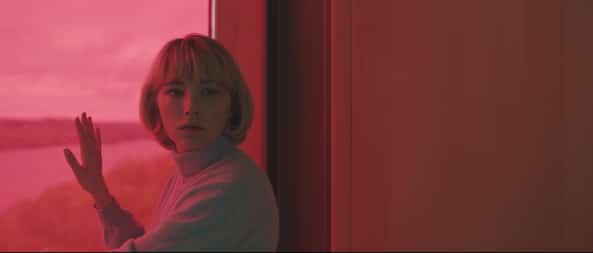 Have you ever seen a marble that looked good enough to eat? They can be visually appealing in much the same way as sweets. Small, round, neat, translucent. As Hunter (Haley Bennett) holds one up to the light, the camera catches its fruity swirl of red, strawberry bright. When she pops it between her lips, we can understand why she swallows.
Small moments of pleasure like this can make all the difference in life. Hunter's mother in law, perhaps more alert to her unhappiness than she is, suggests that she take a fake-it-till-you-make-it approach to wedded bliss. She does love Richie (Austin Stowell), or so she believes. He keeps telling her how much he loves her. And he's attractive and successful and has provided her with a beautiful home - all the things she's supposed to want in life. Now that she's pregnant, the future looks rosy. It's just that he doesn't actually pay much attention to her. With her perfect little bob of blond hair and her inoffensive pastel-coloured clothes, she's just another piece of expensive furniture languishing in the background of his life.
Hunter's strange cravings don't stop with the marble. Other small objects that prove irresistible are more dangerous. Why is she doing this to herself? Using her obsession as its jumping-off point, Carlo Mirabella-Davis' potent psychological drama follows Hunter's struggle to take control of her present circumstances and accept herself as a person, whilst also exploring an issue in her past that has shaped the way she understands herself. It unfolds in a way that defies expectations, finding hope and humanity in unexpected places.
There are darker themes here too. Hunter's relationship with her husband becomes more and more obviously abusive despite the absence of simple violence or the additional social cues that many people still rely on to identify such behaviour. A psychiatric nurse who has survived the war in Syria puts her problems in perspective but subsequently develops a sympathy that suggests he has identified her as someone else affected by trauma. Conversations about the desire for control, set side by side with the increasing disempowerment that many people with psychiatric illnesses face, show a nuanced understanding of how crises like this can develop yet never reduce Hunter to a set of symptoms. Meek and habitually submissive as she may be, there's enough going on inside her for viewers to connect with her as a person.
Much of this is thanks to Bennett, who inhabits her role with a quiet dignity that cedes nothing to circumstance. Her Hunter is a woman who doesn't like to make a fuss, who never puts herself first, who just wants to make her husband happy, and yet under all the layers of learned repression we can see the person she doesn't yet know she is trying to get out. Initially Mirabella-Davis shoots her like an object, focused on her perfect pout, but as her ability to play the dutiful wife crumbles his camera movements become less rigid, allowing her more room to move. The latter parts of the film (which includes some superb supporting work by Denis O'Hare) are shot in a very different style, right up until a final shot which sees the camera remain in place as the credits roll, watching other women, inviting us to wonder what might be going on inside each of them.
A daring, accomplished piece of work, Swallow will leave you feeling unsettled in all the right ways.
Reviewed on: 18 Mar 2020
Share this with others on...