Eye For Film >> Movies >> Swallow (2019) Blu-Ray Review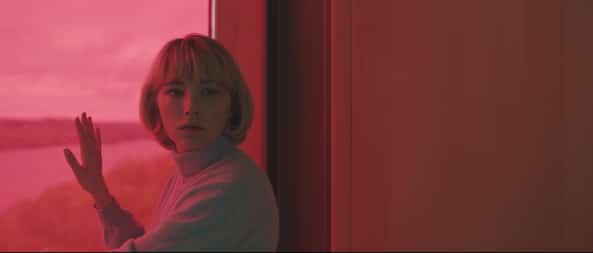 This beguiling and disturbing film is full of secrets and definitely bears repeat watching, but just in case you need a little extra persuasion, this package includes a fantastic array of extras. It includes an in-depth audio commentary, with director Carlo Mirabella-Davis and producers Mollye Asher and Mynette Louie struggling to fit in everything they want to say, plus a selection of interviews looking at the film from the different perspectives of various members of the creative team. All of these are substantial, with Mirabella-Davis reflections on the film's inspirations particularly poignant. Editor Joe Murphy offers some fascinating insights into how the film was assembled (and what was left out), and composer Nathan Halpern places it in the context of other work he has done, such as his score for Chloé Zhao's The Rider.
In addition to this, there's 27 minutes of extra film: Mirabella-Davis' breakthrough short Knife Point, which is proof positive that his talent extends beyond the feature presentation. There's also an interview with Alexandra Heller-Nicholas which explores the feminist ideas in Swallow and places it in cinematic and literary context. Far from the usual collection of hastily assembled bits and pieces, this is a coherent and high quality set of features which really add to the film
Reviewed on: 23 Nov 2021
Share this with others on...