Eye For Film >> Movies >> Shadowlands (1993) Film Review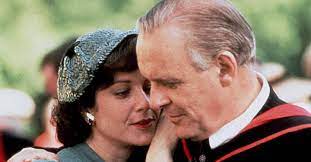 While the film adaptation of The Chronicles Of Narnia: The Lion, The Witch And The Wardrobe continues to reign at the box office and introduce an entirely new generation to its bizarre delights, the 1993 CS Lewis biopic Shadowlands reveals the man behind the wardrobe. Based on William Nicholson's stage play, Shadowlands deals with Lewis' late romance with an American woman.
The film begins in 1952, after the publication of the Narnia books, while Lewis was still professor of English at Magdalen College, Oxford. His life begins to change when he meets an admirer, Joy Gresham, an American divorcee with a young son. A life spent largely in contemplation and quiet domesticity with his brother slowly opens up, as he begins to make room for Joy and her son Douglas. What begins as a friendship of the mind gradually develops into an intense feeling of connection and love.
Joy decides to move permanently to London and Lewis eventually agrees to marry, in order to give her citizenship. It is only when she suddenly falls critically ill that the emotionally withdrawn and philosophically severe Lewis - we see him giving a speech where he proclaims, "Pain is God's megaphone to rouse a deaf world" - begins to realise the depth of his feelings for Joy and Douglas. The scene where they are married in a religious ceremony from Joy's hospital bed, as opposed to the previous registry office marriage of convenience, is genuinely touching.
There are also some surprisingly funny moments to lighten the emotion: a pub argument about the symbolism of the wardrobe, filled with fur coats, one waggish fellow proposes the obvious Freudian reading, "So, in order to reach the magical world, the child must push through the mother's fur?" Joy memorably puts one of the more socially irritating professors in his place when he suggests that women lack intellect in favour of soul.
This is a delicately felt film, with Anthony Hopkins in the role of Lewis and Debra Winger as Joy and both actors deliver subtle, nuanced performances - Winger is particularly good. In British films, American women are usually vulgar, or grasping, and Winger manages to be both refreshingly frank and wryly amusing. Hopkins abandons his usual bluster to play the far away academic who struggles to connect with Joy and Douglas.
This is a quiet, moving film about the personal life of the driest of academics, who created a classic of children's literature, and will delight those, curious to gain an impression of the man who was CS.
Reviewed on: 10 Feb 2006
Share this with others on...