Séraphine
Reviewed by: Chris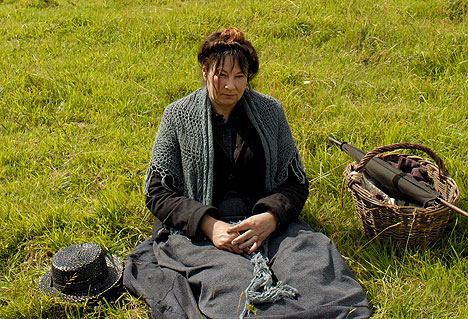 Cinema is a language of deception. The set we see, the mise-en-scene, is what the director wants us to see, conditioning us visually before an actor even speaks their lines. In costume dramas, the historical clothing is a further weapon to impress a specific artistic vision on us, further cloaking any subtext, whether the transformation of a marriage market story into 'rom-com' (Pride & Prejudice) or consciously travestying the past (Moulin Rouge!, Marie Antoinette).
French cinema has achieved respected and less controversial use of costume with films like Jean De Florette and Manon Des Sources. In these examples, beautiful, nostalgic settings were contrasted with dystopian visions of the hard life. When we move to the biopic, cinematic techniques are routinely used to persuade us of 'what really happened'.

Séraphine continues the proud French tradition of costume and historical drama, yet in a very accessible vein. It tells the (true) story of a minor French painter, Séraphine Louis (later known as Séraphine de Senlis, after the village where she lived). Our story picks up Séraphine working as a maid for Madame Duphot. This lady of the house also rents an apartment to a German art critic-dealer, Wilhelm Uhde. Uhde believes in the 'primitive' artists and takes a liking to some of the maid's work he spots. Yolande Moreau's assured performance gives weight to what may be an unvarnished account. The discovery of the peasant woman's talent, her humble charm as she goes about collecting the ingredients for paint (wine, mud, fruits, flowers) as she goes about her chores as a domestic servant. Everything draws us sympathetically into Séraphine's world.
Udhe nurtures Séraphine's embryonic talent, ensuring it is seen worldwide, but as war hits the economy, support evaporates. Séraphine's inner voices of inspiration lead her to psychosis and she meets her demise in an insane asylum.
The painting itself is of the so-called 'naïve' style, characterised by childlike simplicity. (One of the most famous exponents, according to some, is L S Lowry.) The style seems natural to the childlike (if brilliant) personality of our peasant woman, although, of course, many naive art painters, including Lowry had, unlike Séraphine, plenty of schooling and formal knowledge of art technique.
Production values in the film are high all round. Costume, acting, direction, all achieve a high standard, as evidenced by the many awards heaped on it in its own country. The overall effect is touching without being sentimental.
Séraphine is a continuation of one woman's barely recognised legacy. Any subtext is about serving up a fine character from France's past, a commemoration of national greatness from the early 20th century. (Visits to the exhibition of her work in Senlis have, predictably, quadrupled since the release of the film.) If there is any ideological weakness, it is simply that held by the character herself, a Christian attitude of sacrifice and acceptance of fate. There is no strong judgement on whether Séraphine could have lived her life differently. No real analysis of her painting style. It is, after all, a classy and enchanting fairy tale hung on the hook of a historical person, a harmless deception perhaps. The viewer, should she or he wish, can make their own judgement. Just as they can on the deeply religious and fairly distinctive artworks she left for posterity.
Reviewed on: 09 Sep 2009
Share this with others on...