Eye For Film >> Movies >> Salt And Sauce (2017) Film Review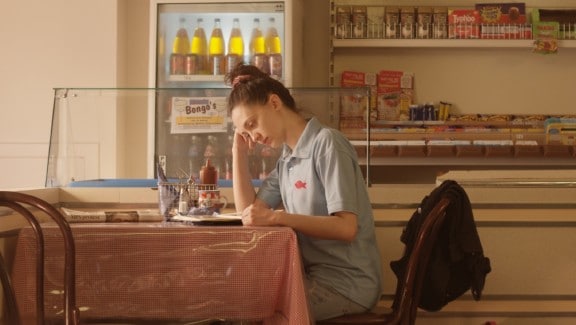 I was once in The Magpie, the harbourfront chip shop in Whitby opposite the beach where Dracula landed, all earth-filled box and empty boat and big dug (him, not me), and as I and my companions ordered our fish suppers we asked for some bread and butter, and having heard us mention chip butties our waitress said she'd ask that those slices be cut square, rather than diagonal. I say these things to give you a sense not only of place, but of attention - mine, that of others.
This is something Salt & Sauce does without needing recourse to the supernatural. Anecdotes, yes, clumsy friendships, certainly, chips, definitely.
In a tightly-constructed, well-executed debut feature, Alia Ghafar has produced something warm, wrapped-up in such a way that any opening represents escape. Not of steam, the moist and heavy fog of fried potato from paper, but ambition - hers, undoubtedly, but clearly, concisely, cleverly, that of Tammy, her protagonist. With the help of Beth Woodruff's cinematography, this is closely held. In Q&A at 2018's Glasgow Short Film Festival she was asked about technical elements - she mentioned the aspect ratio, selected to "flatter, give presence to one person", that not cutting to people Tammy's talking to was "literally about focus". Flora Bird's performance is central - usually to the frame, beyond the story - the movement and stillness of camera in the small and borrowed space of the chippie Duddingston Fry enough at times to "feel the discomfort". Andrea Arnold was named as an influence, and there's something in a sense of places within places.
A graduation film, a debut, this is a real indicator of talent. When it won the Scottish Short Film Award, the jury paid tribute to the way in which it "touches on universal experience" in the "small unique universe it inhabits". Eye for Film spoke to Alia after the award: she's starting to make a new short film (a good habit to get into); we'd also asked about lessons learned, what she knows now having made the film that she wished she'd known before. She talked about directorial confidence, about taking time "if something doesn't feel quite right" to re-think, and re-approach. This too, I suspect, is a good habit to get into.
Salt & Sauce is full of small things that I liked - the surfaces of counters and the like afford certain sonic sensibilities but it was in reflection and layering that I found tricks of delight. Tammy may be a photographer, but she's the creation of someone with an equally keen eye. All sorts of visions abound, juvenile male gaze, black & white glamour, whatever the deep-fried equivalent of a selfie is called (if it's got black pudding it can't quite be a 'meat cute'). Even a bit that jarred (two different suppers ordered, salt and sauce requested "just on one") probably said more about character (on screen, in my seat) than anything else.
If I were to be flippant, and too often this is the case, I would say that every time I have seen Salt & Sauce I was left with an overwhelming hunger for chips. More importantly, professionally, each time I was also left with anticipation for its creator's next project. It's charming, satisfying, a wee bit sharp. At this point I'm thinking about chips again but it's fair - heart-warming, compact, complete, a treat.
Reviewed on: 19 Mar 2018
Share this with others on...