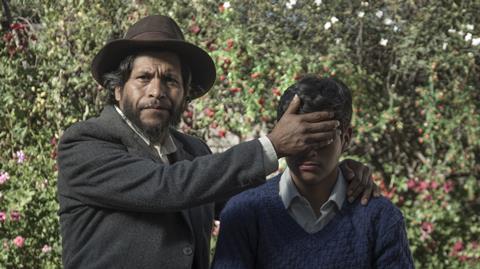 The world is full of beautiful rural communities - places where not only is there wonderful scenery to enjoy but there's work and opportunity and a strong social spirit, with people going out of their way to care for one another. Unless, that is, one doesn't fit. Unless one breaks the rules simply by existing. These rules are the same in many different places. It helps to be a member of the majority race, preferably with generations of ancestors in the area; it helps to be male; it helps to be straight.
Life for 14-year-old Segundo (Junior Bejar) seems idyllic. He lives in the Peruvian Andes, with stunning views everywhere he looks, in a strong community where he's entirely sheltered from the overt racism he might have to deal with in the city. He has a close relationship with his father and is possessed of natural talent that enables them to work side by side in the family workshop, where they make retablos - religiously-themed story boxes full of tiny painted figures - which they sell in the village market, benefiting from a thriving tourism trade. They have a good patch of land and animals which his mother manages to tend to despite he disability. But Segundo is just reaching that age where adult concerns are starting to intrude on his world, opening his eyes to a side of the community from which he has previously been protected.

In an early scene, Segundo and his father find themselves in a town square where a man accused of theft has been tied up, each adult man taking a turn to whip him. Nobody around there knows him, it is explained, as if this gives additional license to the extrajudicial punishment. This is how real men handle their problems, it is implied. The boys Segundo has grown up with are keen to demonstrate that they're becoming real men. Their teasing over the fact that he has a skilled, indoor job and not a more manly job on a farm is not so bad. Their constant picking of fights, however, makes Segundo uncomfortable, and still more so the way they talk about women. As he blushes over his crush on curvaceous market worker Felícita (Claudia Solís), they talk ceaselessly about how they want to grab her and how hard they want to fuck her. She lives alone among the dark hills; it's difficult not to feel that she's in serious danger.
In the midst of all this poisonous posturing, Segundo inadvertently catches his father in a compromising position with another man.
Peru is considered one of the most dangerous places in the world to be gay or bisexual. It's difficult to express just what a bold piece of work this film is within that context; but more importantly, it's thoughtful, gently challenging, inviting local viewers to look at its subject matter in new ways. Initially, Segndo is disgusted by what he sees - growing up in that community, it's difficult to see how he could feel any other way. Over time, however, he works to sort out his conflicted feelings, unwilling to forsake the father he loves deeply, unable to see him as a monster. Meanwhile, the consequences of his father's secret gradually become apparent, complicating his own life, closing off possibilities he thought would always be there, forcing him to seek out something new.
There is no narrator here, nor any discussion of the issues at stake. Everything depends on the performances. Newcomer Bejar is astonishing in the lead, using his face and body alone to communicate a wealth of repressed emotion. He was fantastic chemistry with Amiel Cayo, who plays his father. As his mother, Magaly Solier is out of sight for much of the film but really delivers when the time comes.
Alvaro Delgado Aparicio frames the action exquisitely, at time letting us see Segundo's aloneness in the vast landscape, at others framing characters against walls or with trees or doorways so that they resemble the retablos themselves. In the opening scene, Segundo's father encourages him to memorise the details of a group of people they will soon make models of. He is teaching the importance of observing details, as much a part of the filmmaker's technique and something that will transform the boy's experience of the world around him. He also seems to be advising the boy to look closely, to drink it all in, because the world as he sees it there, innocent and kind, cannot be expected to last.
Reviewed on: 06 Nov 2018
Share this with others on...