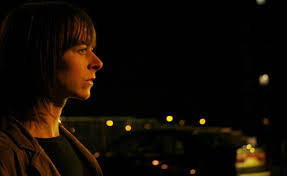 Directed by Academy Award winner Andrea Arnold, Red Road is a gritty story of revenge and self-discovery, set against one of the most impoverished and crime-ridden areas of Glasgow.
Jackie (Kate Dickie) is a CCTV operator, who oversees the Red Road area of town, keeping an eye on the residents. One day, she sees a man on her screens, with whom she has shared a dark past. His name is Clyde (Tony Curran) and he's just been released from prison. Jackie becomes obsessed with tracking his movements on her screens and begins to infiltrate his group of friends outside of work, in order to confront him face to face.

Almost all the actors are Scottish, including the excellent Martin Compston (Sweet Sixteen), who plays Clyde's best friend Stevie, which lends a degree of credence to the film. The performances are genuine and personable, especially Dickie, whose representation of a woman consumed by her past and numb to the world will bring a tear to your eye.
At the start, we are introduced to Jackie's repetitive and detached life. The slow beginning is clearly intended to portray how dead to the world she is and how she has come to define her life through the CCTV cameras she monitors. We meet Avery (Paul Higgins), a married colleague, with whom she is having a loveless affair. Their fortnightly liaisons seem like a tired routine and we begin to understand that whatever happened to Jackie in the past has drained all the passion from her life.
Clyde is cast in a sinister light and appears to be a sexual predator and an entirely false figure, an impression driven home through his relationships with other women. Throughout the first two thirds, this creates the suspicion that he may have raped, or attacked Jackie and that this was the crime for which he went to jail.
She goes out of her way to speak to him and to Stevie and begins to learn more. In fact, she ends up sleeping with him, and despite experiencing a level of passion and physical excitement she clearly hasn't found in years, she is driven by her need for vengeance. This is a pivotal moment in the film, as the audience is suddenly left wondering if they might have been sympathising with the wrong person all along.
Clyde is seen to have a creative side, as well as a young daughter with whom he is desperately trying to reconnect after deciding to go straight. This is a truly gripping moment, as the audience is torn between the impression given from Jackie's perspective and a possible alternative that is starting to emerge.
Finally, we learn what Clyde really did in the past and Jackie speaks to him directly, without fear or pretence. The outcome may seem a little underwhelming, but I believe the idea is to convey the sense that a first step has been made at last, since this is a story grounded in reality and all the pain of the characters could not possibly be remedied in the short time scale of a film.
Red Road is an intense drama, which takes the audience on a moving journey and attempts to teach us a lesson about resolving the past before looking to the future. There are several scenes that are genuinely touching and the standard of acting is excellent throughout. I would recommend it to anyone who isn't afraid of harsh language and graphic realism and is looking for a deeper experience than run-of-the-mill feelgood entertainment.
Reviewed on: 28 Oct 2006
Share this with others on...