Eye For Film >> Movies >> My Friend Victoria (2014) Film Review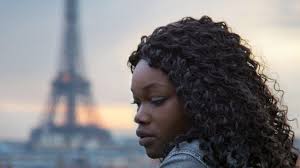 This may be a tribute to friendship although seems as likely to be the story of a beautiful black girl, called Victoria (Guslagie Malanda), who drifts like a leaf across life's ragged turbulence.
Narrated by childhood friend, Fanny (Nadia Moussa), Jean-Paul Civeyrac's film has a literary feel to it. Nothing is explained, nothing predicted. The intensity is created by expectation and commitment. You care about this girl who dropped out of school, fantasised about an upper class boy and later had a child with his brother before marrying a singer and yet remained, through the fog of responsibility and racial inequalities, an innocent.
Fanny is different. She went to college and was offered a good position with a publisher. She observes Victoria, mother of two children, who works when she can as a shop assistant, refusing financial help and retaining a naive integrity. Her silence is her strength. "I never knew what she was thinking," Fanny says. The mystery is integral to her fascination.
What appears self indulgent, even pointless, is neither. Only in France can a film of such delicate sensibility be made. Every cinematic cliche within the feelgood genre has been avoided. The complexities of class and colour are never in danger of crushing compassion.
The story is told with such perfect pitch. Men are there and make a difference in a practical sense yet overall and underall this is a woman's picture. Victoria may be trying "to find a place somewhere", caring for young children and avoiding the necessity to compromise her beliefs, while the apparent simplicity of her life is deceptive. What lies beneath is a confusion of unrequited desire and the residue of hope's wanton promises.
Reviewed on: 15 Nov 2015
Share this with others on...