Eye For Film >> Movies >> Mildred Pierce (1945) Film Review
Mildred Pierce
Reviewed by: Chris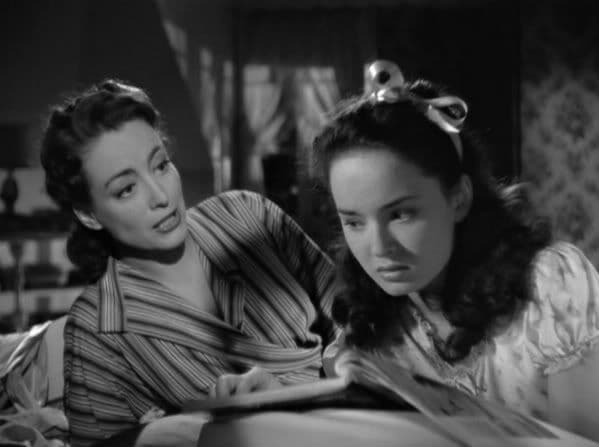 If you like black and white classics, they don't get much better than this. Forties film noir scales the heights in Mildred Pierce, replete with crashing waves, tears glistening in the moonlight, sumptuous spiral staircases and long dark shadows.
A man is murdered with several shots at close range. The last word to pass his lips is "Mildred." A car drives away through the windswept night. The identity of the attacker is still unconfirmed.

This is a world where women wear furs and men can talk themselves out of almost anything. Joan Crawford, having taken a dive in her career, soared back with this film to win an Oscar. Her character perfectly blends the strong woman breaking away from dishes, drudgery and childbearing with a woman full of unfulfilled passion and compassion. Her marriages turn sour. She drags herself up by the bootstraps. Only to squander money and devotion on a spoilt brat of a child.
Oscar-winning director Michael (Casablanca) Curtiz brings together stellar performances, the cinematography of Oscar winning Ernest (Gone With The Wind) Haller, sets by multiple Ocsar winning George James Hopkins (Who's Afraid Of Virginia Woolf?), a sharp script full of camp, and an emotional punch that knocks us over at the end.
The story is told in flashback from the police station. An unfortunate number of all too-willing suspects keep us on edge as we desperately hope Mildred gets off.
Crawford accepted her Oscar from her bedroom. Generations of fans will continue to enjoy her efforts in this overly theatrical but eternally delightful tale of mystery and romance.
Reviewed on: 06 Jan 2008
Share this with others on...