Eye For Film >> Movies >> Kissing Candice (2017) Film Review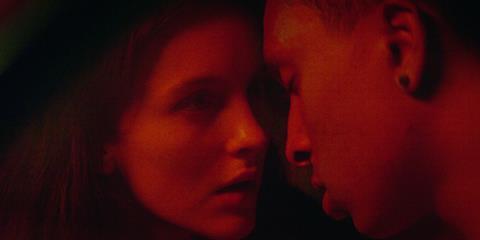 Were it in England rather than Ireland, this could be Morrissey's seaside town that they forgot to close down. The sort of place that takes on a fantasy form in season when tourists want to get away from all their troubles, it reveals its true self at other times, and after darkness has gathered. To its residents it's dismal, violent; it feels like a trap. And such places are never more miserable than when one feels trapped there as a teenager.
Ann Skelly is Candice, a frustrated girl looking for sex, love and, most of all, a way out. Her situation is made more difficult by the fact she has epilepsy, a condition that not only causes her direct distress but has made her police officer father as over-protective as he is overbearing. Reflecting on the behaviour of local gangs, he comments that things were better during the Troubles, implying that at least then young people fought with a sense of purpose. He doesn't like Candice going out, so she sustains herself by living in a fantasy world. When, however, she encounters a young man who resembles one from that world, she quickly becomes obsessed with him. His single act in her defence leads her to follow him around like a lost puppy and get into all kinds of dangerous situations as a result.

Skelly, whose only previous experience is in television, acquits herself well in the central role, imbuing it with a potent physicality. She paces through the film like a caged animal, and though a good part of the narrative deals with her sexuality, her presence is bigger than just that. Unfortunately none of the other characters share the same levels of development as Candice, so that this charismatic performance unbalances the film. It's clumsily written to begin with and its interesting premise is squandered as the story develops, with the real tension surrounding the stranger's origins and Candice's mental state set aside in favour of a drama about gangs that we've seen a thousand times before.
Director Aoife McArdle's visual style is certainly distinctive. Her background is in music videos and that influence is clearly visible here, but the showiness of it doesn't work so well when stretched across 100 minutes. Where the film does benefit from her experience is in its sound design, with a pulsing soundtrack perfectly fitted around the action. The result is a film that's much more about mood than story. Though the script is weak and it doesn't succeed in achieving its apparent aims, it reveals obvious promise in both director and star and could point the way to interesting work in the future.
Reviewed on: 01 Mar 2018
Share this with others on...