Eye For Film >> Movies >> In The Valley Of Elah (2007) Film Review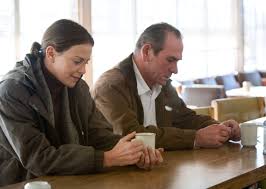 Films about the legacy of the wars in Iraq and Afghanistan have been a long time coming but seem likely to become prolific now. Of course, in some families, one can never get away from the subject of war. Former military investigator Hank Deerfield never pushed his boys to follow in his footsteps but they did so nonetheless. The oldest was killed when his helicopter was shot down. Now the other one has gone missing, AWOL from a military base just days after returning from Iraq. Dissatisfied with the official attitude that he'll probably return in a few days, Hank drives over there and begins a thorough investigation of his own. What he discovers forces him to question his whole way of life.
In The Valley Of Elah has already been compared to CSI, which it mimics pretty closely for much of its length, especially when Hank is working alongside police detective Emily Sanders. Certain aspects of the story are painfully contrived. Hank turns his son's phone over to a hacker and gradually receives disturbing videos via email. An unnecessary number of rather pedestrian twists and turns litter the plot. The very last scene is pure cheese, and is only made worse by a resurgence of the awful soundtrack. But all these complaints aside, this is still a very fine film. With the bandage strapped across Emily's nose, it makes no secret about trying to be Chinatown, but surprisingly this doesn't come off too badly.
Charlize Theron is one of few actors working today with the sheer force of personality to give Jack Nicholson a run for his money, even in this quietly spoken role. There's no showy acting on display here, but the performances are uniformly excellent, especially from Tommy Lee Jones in the lead. He captures perfectly the practised calm of a man who has spent a lifetime dealing with crises of one sort or another, yet the agony caused by the personal nature of this situation is visible just below the surface. As his wife, meanwhile, Susan Sarandon expresses both their distress with an intense performance balanced by sharp editing.
Whilst starting out as a fairly routine investigation, In The Valley Of Elah ultimately takes a twist which goes beyond the simple mechanics of the plot. Though its message is a familiar one it gains new authority from the context in which it is presented. Hank has some tough things to learn about his son, as about himself - and, in the end, about the country he continues to love. As tiny details are pieced together to build a picture bigger than anyone intended, this becomes less about David taking on Goliath and more about David growing up to become uncomfortably tall himself.
Reviewed on: 12 Jan 2008
Share this with others on...