Eye For Film >> Movies >> In The Valley Of Elah (2007) DVD Review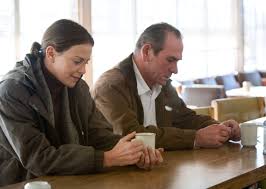 Like the film that they accompany, these extras are calm, understated and quietly devastating.
The two featurettes, After Iraq (27 minutes) and Coming Home (15 minutes), are sufficiently of a piece that they form a natural continuum with one another (and could easily be joined end-to-end as a single featurette). There is all the usual behind-the-scenes footage and on-set interviews with the big stars (Tommy Lee Jones, Charlize Theron, Susan Sarandon, Josh Brolin) – but far more time is spent with the young men playing the victim's fellow soldiers (many of whom, it turns out, are actual soldiers recently returned from Iraq), or with Lanny and Remy Davis, parents to the returned soldier Richard Davis whose murder was the inspiration for the film. Expect depressing accounts of psychological stress amongst returnees, and righteous outrage at the US Administration's policy of denial and neglect. Even the erotic dancer extras talk about Post-Traumatic Stress Disorder in a way that suggests it has become a common affliction amongst their clientèle.
In a heavily chopped-up 16-minute interview, writer/director Paul Haggis reveals it was only the intervention of Clint Eastwood that got the studios interested in what he concedes is "a difficult subject", and only the strength of the screenplay that got 'chameleon' Charlize Theron and cinematographer Roger Deakins on board (neither with much prospect of actually getting paid for their work).
Responses to screenings from veterans and soldiers' families have been "overwhelmingly positive", and Haggis hopes to attend screenings in Iran. He points out that the military currently has its highest ever rates of suicide and homelessness amongst returnees, and asserts: "I thought it was much too easy, and wrong, to point the finger at the troops."
The seven minutes of additional scenes comprise an entire subplot that was removed from the film, involving Hank's search for his son's ex-girlfriend, one 'Jennifer Lopez', and his discovery that Private Lopez has become one of many war amputees. The sequence is well-acted (even if the CG amputations are incomplete in some scenes), but perhaps a little too obvious in the way it manipulates the viewer's emotions, so that its absence from the final cut is easily understood. Still, good to have it here.
One can only wish that there were also an alternative ending (alas, there is not), for the great subtlety with which Haggis' film guides the viewer towards self-examination is entirely undone in the final five minutes of clumsily flagged symbolism.
Reviewed on: 26 May 2008
Share this with others on...