Eye For Film >> Movies >> I Am Not A Serial Killer (2016) Film Review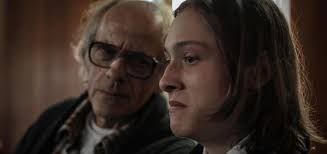 Director Billy O'Brien and co-writer Christopher Hyde's adaptation of Dan Wells' teen fiction novel tells the story of John Wayne Cleaver (Max Records), a teenager diagnosed with sociopathic tendencies who finds his small Midwestern town stalked by a serial killer.
I Am Not A Serial Killer has all the ingredients for a film with personality and charm. From the intimacy of the small town where everyone knows everyone else, through angst that goes beyond the usual sullenness of adolescence, to a spate of killings. There is even the ghostly shade of Alan Ball's HBO series Six Feet Under in the confines of the unhappy family mortuary where John helps his mother (Laura Fraser) and aunt Margaret (Christina Baldwin) embalm bodies. Alongside John's disconnection with his mother are tensions between his mother and sister (Anna Sundberg), while his aunt tries to keep the family intact. John's therapist Dr Neblin (Karl Geary) and his friend's father Roger Bowen (Michael Paul Levin), are key additions. Neblin offers verbal humour and Bowen brings a brand of simpleton comedy to proceedings, although he winds up being underused in a narrative that struggles to accommodate him more frequently.
In spite of O'Brien and Hyde's sharply written screenplay, it is difficult to imagine the film working without the strength of Records and Christopher Lloyd's performances. The quality of these shines through in the quieter and subtler moments, the young actor equalling his veteran co-star's ability to create presence through silence. Famous for the loud and eccentric Doc Brown in Robert Zemeckis' Back To The Future trilogy, Lloyd, in one scene, recites and explains to John the meaning of two of William Blake's poems. It is a fine example of theatrical subtlety or the mastery of performance. We are compelled to lean inward, to hold our breath so as to not miss a word as Lloyd embodies a man who not only knows but has come to accept his fate. This moment of knowledge or wisdom is all the more profound in the presence of John, who knows but is yet to fully understand his own nature. The difference in age between the two characters is beautifully juxtaposed not only in this moment but throughout the film. The calmness of Crowley (Lloyd) is offset by the explosiveness of John's youth. Yet contradicting his calm demeanour, Crowley's ferocity at times is expressed through the fearsome and ferocious presence of his car, or through his assured tone and confidence, showing that he's an adversary to be feared.
John's pursuit of the killer sets in motion a confrontation not only with Crowley but with the shadow complex that stalks him from within. In spite of his sociopathic tendencies, the film has an ambivalent air, John not without an ability to connect with others but finding that connection difficult. O'Brien and Hyde lack interest in approaching their young protagonist as an either or personality of the sociopathic extreme, incapable of feelings of empathy. Instead they prefer to show the thinness of the veil between emotion and lack of emotion.
John's relationships with the women in his life - his mother, aunt, sister, neighbour Brooke (Lucy Lawton), a potential love interest in any other story, and Mrs Crowley (Dee Noah) - reveal his ambivalence. His aunt, for example, resembles the voice of empathy that he's missing. His mother provides him with a means of controlling his dangerous tendencies. In one emotional scene she even rationally expresses his needs through words that anchor his disconnected personality further.
I Am Not A Serial Killer strikes rhythmic beats with precision as the story progresses. But it is a story that is susceptible to mishandling. O'Brien, Hyde and the cast do not allow the empathy and feelings that they are encumbered with to thaw John's disconnection from his family and community. Together they follow what could be described as a sociopathic approach. By sustaining this disconnect from the opening scenes to the closing credits,they remain true to their character in a film that is smartly ambivalent.
Reviewed on: 09 Dec 2016
Share this with others on...