Eye For Film >> Movies >> I Am Not A Serial Killer (2016) Blu-Ray Review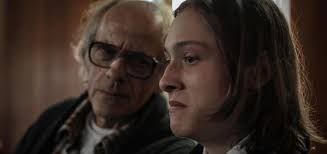 I Am Not A Serial Killer is a rare gem of a film, one that fans are going to watch again and again partly because of its mysteries and partly because it's so well made, with beautifully judged performance that never get old. It's great to see it brought to the small screen with a package of extras that lives up to this standard.
Director Billy O'Brien first started trying to get the film made when star Max Records was jst 13 years old, fresh from Where The Wild Things Are. It's fascinating to see the mood cut shot at this time, with some of the same scenes that Records would go on to film again at 19. A phone box comparison lets us see two whole scenes side by side. The mood is quite different; the younger Records is more obviously vulnerable and we don't gt the same sense that he could himself be dangerous, even if he has the potential to be dangerous in the future. Although he's still good, we can also appreciate how much he's developed as an actor. It would be difficult not to conclude that the delay, which worried O'Brien a lot at the time, was fortuitous.
Some young actors are very sober and dryly professional when not in role, so it's nice to see Records excited and eagerly engaged in helping out in a featurette that details how a puppet key to the film's final scenes was animated - there's an immediacy and vulnerability to him that tends to be a sign of rare talent. Alongside him, putting the puppet together, is former child star Toby Froud. Though he will forever be known as the baby from Labyrinth, he is now a creator of goblins and other eldritch creatures, and although this segment doesn't go into a great deal of depth the quality of his work is clear to see and it's interesting to see how this particular effect was put together.
Also impressive is a collection of deleted scenes all of which are good enough to have made it into the final cut, so were presumably deleted for space reasons. They show us a little more of the central character's relationships with his neighbour and with the girl who has taken a shine to him. Finally, there's an example of the storyboarding used for the film - drawn with excessive detail that evidences what it meant to the filmmaker - and a gallery of shots showing Froud's creation at different stages in its development.
Reviewed on: 16 Feb 2017
Share this with others on...