Eye For Film >> Movies >> Hobson's Choice (1954) Film Review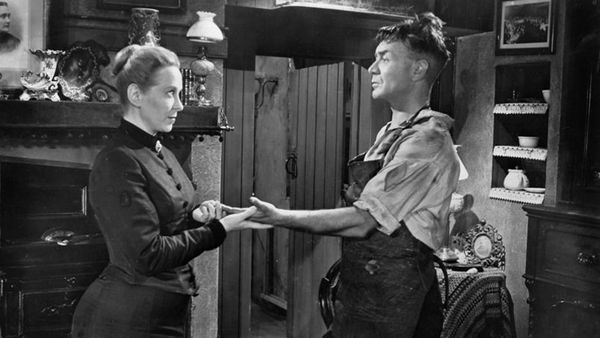 To celebrate its 60th anniversary, the good folks at Studio Canal have re-issued David Lean's adaptation of Henry Brighouse's 1915 stage play Hobson's Choice on Blu-ray, DVD and as a download. The definitive take on Brighouse's source material, being one of numerous stage revivals and screen versions big and small, Lean's Hobson revolves around a memorable performance by Charles Laughton in the lead role. Laughton's foghorn voice, corpulent frame and gift for physical comedy naturally dominate the tale of the comedic trials of a widowed boot maker and his three unmarried daughters in 1880s Salford.
Dyspeptic, over-bearing, chauvinistic and a fully fledged dipsomaniac, Henry Hobson is intent on marrying off his two younger daughters - Alice (Daphne Anderson) and Vicky (Prunella Scales) - while the eldest, Maggie (Brenda De Banzie), whom he deems to be "a bit on the ripe side" for marriage at 30, is expected to live out her days keeping house and running the family business. The titular choice, dating back to the 16th century, comes into play when Maggie, naturally aggrieved at being thought of as on the shelf and "too useful for marrying" takes Hobson's prodigiously talented but lowly and illiterate boot maker, Will Mossop (John Mills), as her fiancé.

With the nice-but-dim Mossop in tow, Maggie then demands a wage for herself and an increase in her beau's pay or they up sticks and open their own, rival, business. Outraged at Maggie's challenge to his rule, Hobson refuses Maggie's one-choice option and the stage is set for a comic farce in which female servitude, patriarchal dominance, Victorian values, familial expectations and social standing are jauntily skewered in this classic British comedy.
Lean, whose eye for breathtaking vistas and adroitness at staging vast historical narratives resulted in Lawrence Of Arabia, The Bridge on the River Kwai, Doctor Zhivago and A Passage To India, was equally at home working on smaller scale human dramas - of the comedic, romantic or melodramatic varieties - as seen here and in the likes of Brief Encounter and Great Expectations. While largely letting the enduring material, performed by a universally impressive cast, speak for itself, Lean's always masterful direction and peerless compositional skill shine through in a number of sequences, among them the wonderfully evocative opening scene capturing the quiet, rainy, night time cobbled streets of Salford, crudely punctured by the drunken burp and muttered "beg pardon" of the gigantic, shadowed bulk of Hobson. Hobson's later drunken fall and booze induced hallucinations similarly showcase a deft touch for visual comedy, a trait that Lean rarely had a chance to deploy.
Though Hobson's Choice is essentially a lighthearted comedy romance, it's pertinent to remember that the targets of its jokes - patriarchal dominance of women and a looking down the nose attitude to those deemed to be of a lower social status - were serious issues still very much in evidence in society at the time of Lean's adaptation as they were when Brighouse's stage play made its debut. Above all, it is the narrative's clear feminist leanings that remain a breath of fresh air, prescient then and still hugely relevant to the modern world.
Reviewed on: 21 May 2014
Share this with others on...