Eye For Film >> Movies >> Hobson's Choice (1954) Film Review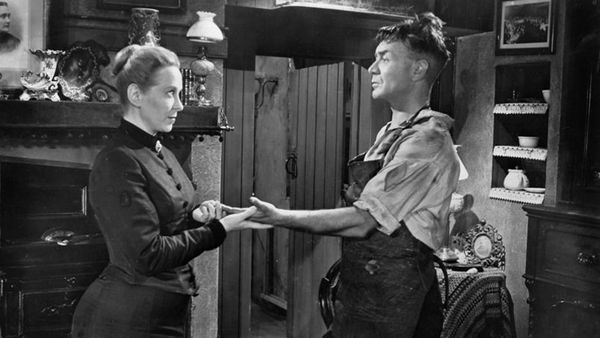 Based on a 1915 play of the same name by Harold Brighouse, David Lean's 1954 adaptation of Hobson's Choice is a warm and funny black-and-white period piece which, though somewhat dated for a 21st century audience, has lost none of the innocent charm and comic wit which earned it a BAFTA award for Best British Film on its original release.
Set in the Lancastrian town of Salford during the 1880's, the film centres around a bootmaker's shop, owned by the ironically named Henry 'Horatio' Hobson (Charles Laughton), and his three daughters, Alice (Daphne Anderson), Vicky (Prunella Scales) and Maggie (Brenda de Banzie). Bored by the humdrum life of the shop and increasingly exasperated by their father's demands and eccentricities, the girls determine to broaden their horizons through marriage. Although Hobson is happy to offload his younger daughters, he acknowledges that his eldest, the headstrong but intelligent and hardworking Maggie, who has adopted the matriarchal role in the absence of a mother figure, is far too useful to lose and so selfishly attempts to scupper her marriage prospects.

Undeterred, the resourceful heroine, played with great conviction by de Banzie, responds by wooing Hobson's talented but downtrodden boot hand, Will Mossop (John Mills), provoking a battle of wills with her father which provides the film's best comedy moments and ultimately leaves Hobson in the predicament alluded to in the film's title.
Laughton is wonderfully over-the-top as the pompous buffoon, constantly outwitted by his daughter, yet never prepared to accept defeat gracefully. Meanwhile, there is much to enjoy in Mills's meek and timid young man who is at first a comic pawn in the battle between father and daughter, but whose transformation, courtesy of Maggie, renders him more than equal amongst those who would consider themselves socially superior. The scene in which Mossop apprehensively prepares for his wedding night includes a brilliantly expressive slapstick routine, which is typical of the film's gentle, yet beautifully observed humour.
Hobson's Choice showcases Lean's talent for comedy as he ruthlessly exploits Victorian attitudes to class, gender and marriage. In addition, the film is notable for its excellent stylised directorial touches, not least the famous sequence in which a drunkenly disorientated Hobson staggers back from the Moonrakers Inn and manages to fall into an open cellar whilst in pursuit of the moon's reflection.
I suspect it may be difficult for a 21st century audience to relate to Lean's quaint, old-fashioned presentation of Victorian society. However, if you're able to get beyond these obstacles and see the film for what it is, then its dated appearance should in no way undermine your enjoyment of a classic period piece.
Reviewed on: 16 Aug 2008
Share this with others on...