Eye For Film >> Movies >> Goodbye Mandima (2010) Film Review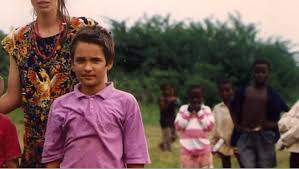 How do you think or your nationality, your origins, you roots? For many people it's simple - they are born in one country and live out their lives there. Others migrate between countries which are not really very different. But the boy at the centre of this documentary has a much more difficult transition to make. He has grown up in Zaire and his language, his friends, his favourite games, his whole way of life belong to that country. But he is white, his parents European, and the day will come when they will take him 'home'.
Told in flashback, illustrated primarily with photos, this is a film about snapshots of memory and the picture they gradually build. It opens with a two-photo panorama shot and it is only by piecing pictures together that we can come to understand the story as it is revealed in retrospect, to get to grips with what is really going on. The little details that give away the decade, the year. The drawn, nervous look on the mother's face. All parents strive to raise their children in at atmosphere of peace and safety, but sometimes it's hard to maintain the illusion.

Some viewers will find this film frustrating in its delivery, as it invites them to place themselves in the position of this boy, to imagine themselves living through his journey, but it's a powerful technique. These could, after all, be anybody's photos. We all have similar memories, childhood friends we adored but can only half recall. There are places where the story lags and only just stays on the right side of sentimentality, but for the most part it is strong, engaging, deeply personal. It both highlights differences and challenges notions of otherness. It's a postcard from another place: wish you were here?
Reviewed on: 12 Jan 2012
Share this with others on...