Eye For Film >> Movies >> Girls On Film 3 (2018) Film Review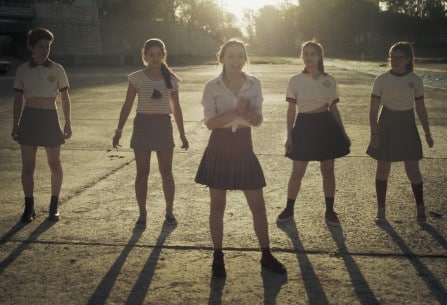 This impressively diverse compendium of short films about lesbians and bisexual women features material from all around the world. It consists of the following:-
Goddess - a young woman struggles with her desire for the maid who helped to raise her, and neglects to recognise her own privilege.
The Swedish Cousin - a few days before her Quinceañera, a girl is introduced to a cousin she has never met before, prompting her to question the values she has grown up with.
Baby Gravy - in a rural pub restaurant on a busy motorway, a couple await the arrival of their sperm donor and begin to panic about the scale of what they're doing.
The Other Woman - a woman who is initially unhappy about her husband taking a second wife discovers that the arrangement has unexpected benefits.
Love Letter Rescue Squad - one of the co-founders of the Lesbian Herstory Archives talks about its importance and contemplates its future.
One Last Night - two women are enjoying their last night out in Tel Aviv before one of them leaves for Berlin, but when they are arrested, one of them is faced with a difficult decision.
Pussy - alone at home one evening, a woman decides to have a solo pleasure session - but not everything goes according to plan in this animated romp. Regrettably, we have been forced to delete this review by Google, which considers it pornography (we disagree). We hope to restore it in the future and we apologise for the inconvenience.
Mums On Fire - a claymation kitchen sink drama in which two women experience frustration in the late stages of pregnancy and dread what is to follow, but find relief with one another.
Reviewed on: 03 Aug 2018
Share this with others on...